In 1911, Frank Mars founded Mars Incorporated in Newark, New Jersey. When Frank was ready to retire, he decided to pass the company on to his son Forrest. To help himself prepare for the responsibility, Forrest traveled Europe to gain insight on the international candy making industry. While visiting Spain during the country's civil war, he saw soldiers eating hard shell chocolate candies. He was amazed to see that even in the hot, summer sun, the candies didn't melt in the soldiers' hands as they ate them. The candies were also lightweight, which made them easy to transport.
At the time Forrest was in Europe, a UK candy maker Rowntree's of York had also just released "Smarties", which were identical to the later developed m&m. There still remains some controversy on whether or not Mars ripped off Smarties. Whatever the case, Forrest saw an opportunity in these candies, and immediately went back home to create his own version. The first batch were made in 1941, just four years after the development of Smarties (not to be confused with the chalk-like smartie candies we know today).
When Forrest Mars came back to New Jersey to patent the candy, he ran the idea by Bruce Murrie for a potential partnership. Murrie was the son of William Murie, president of Hershey. Together, they named the now famous candy m&m for Mars and Murie. They started selling these candies to the military to be given to soldiers with their MRE's. They made the slogan, "melt in your mouth, not in your hands" along with several other commercials to promote the candy. When World War II soldiers came back, they remained loyal to the candy treat and it became a household favorite. Here's the timeline of m&m's from its creation to today!
---
Vintage M&M Commercial: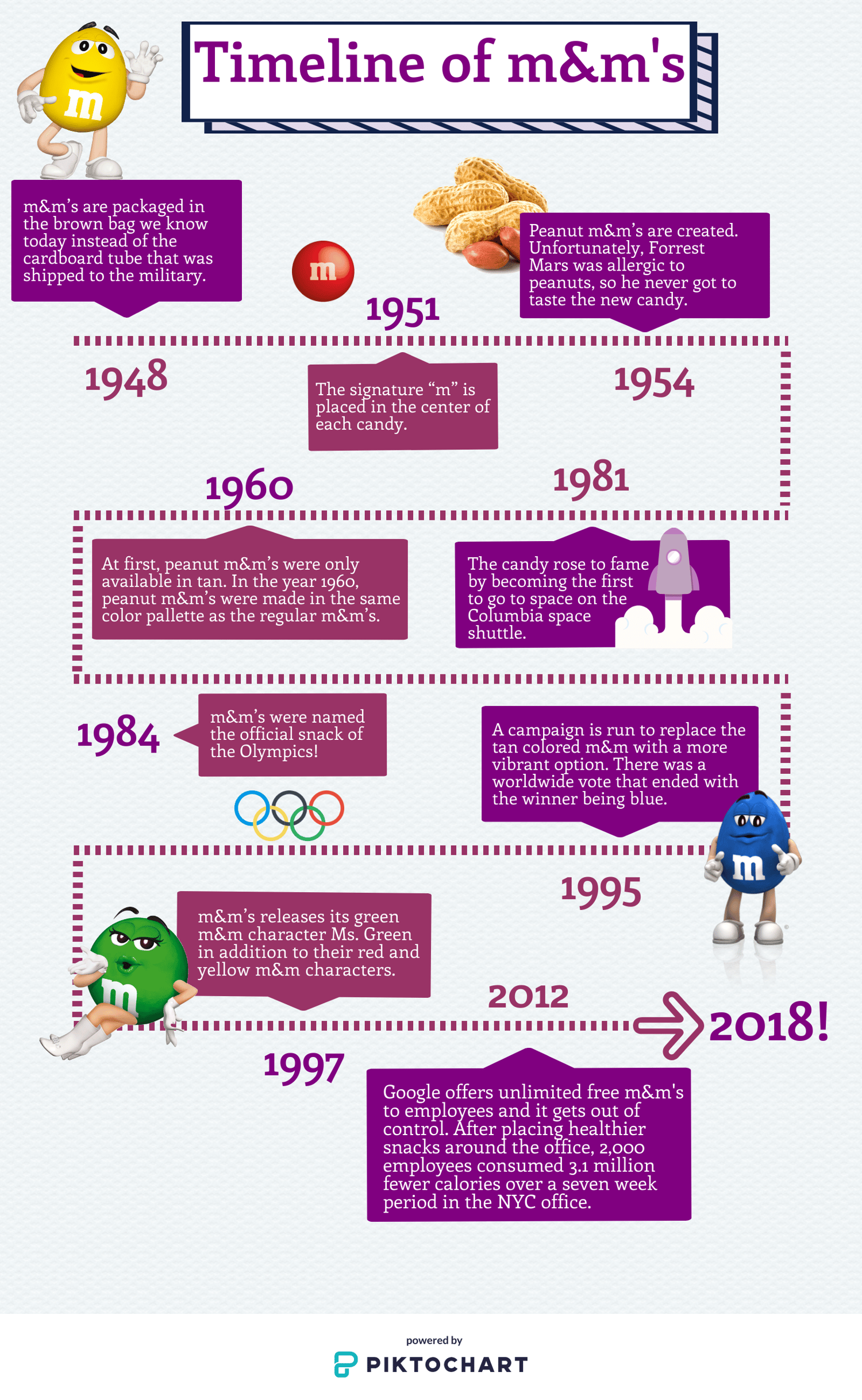 Candy, the Cow!:
Today, m&m's have a massive following. The New Jersey factory alone makes 2 billion m&m's every eight hours. For m&m's 50th anniversary, a sculpture of a cow was made entirely out of brown and tan m&m's. Check out the video below from the Regis show!
---
Ginny Wolfe - the M&M Collector:
While m&m's are a true favorite worldwide, some are more enthusiastic about the candy. Ginny Wolfe is an m&m collector who consumes about a half pound of m&m's a week! Her house is entirely full of m&m memorabilia like license plates, plush dolls, hats, shirts, posters, cars, clocks, figurines, and more! Check out this feature about Ginny Wolfe below.
---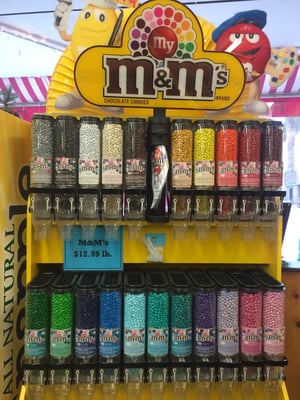 Chutters Candy Counter
There are "M&M's World" retail stores in New York City, Las Vegas, Orlando, London, and Shanghai. In candy stores across the country, m&m's remain top sellers. Chutters, the longest candy counter in the world, offers 20 different colors of m&m's. Mix your favorite blend of colors or color coordinate m&m's to a themed birthday party! If you'd like to continue seeing candy stories like these, please subscribe to our email newsletter.