Every year, towns all across the country celebrate Halloween. Children trick or treating in their costumes, parents having parties for family and friends, and people doing DIY haunted houses in their garage. This time of year, it's time to start thinking about Halloween parties, costumes for the kids, and delicious recipes for Halloween themed food. If you're looking for a specific candy for that cool recipe you found on the internet, we're here to help you find it. As the world's longest candy counter, you could say we really love Halloween (also known as "national candy day"). *Wink*
Halloween is a lot of Americans' favorite holiday, but where did it come from? How do candy counters celebrate? How can you make the most of this upcoming Halloween? Here are some fun facts, tips and good laughs ahead.
How Did Halloween Start?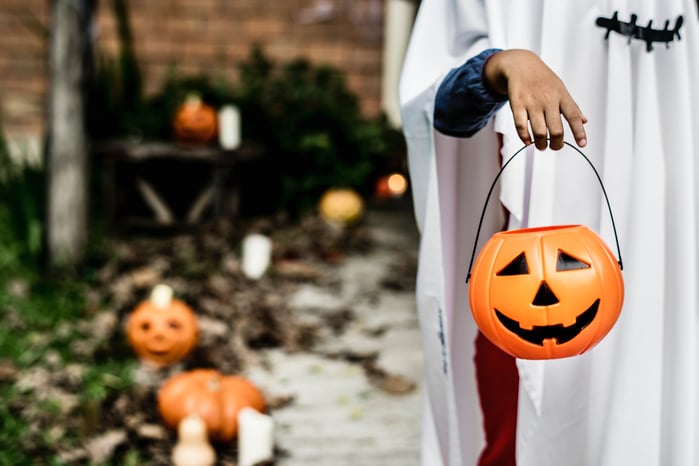 Halloween is derived from the pagan holiday Samhain, which was later adopted by the Christian church and in the year 1000 AD. The Christian church celebrated this holiday on November 2nd, and it was renamed All Souls' Day. Pagans wore costumes on Halloween because they believed that on this day demons were allowed to roam the earth and if you looked like a demon, then a demon passing you wouldn't know you're human. Around this holiday, the poor would go door to door promising prayers for loved ones who have died in exchange for food. Over time, children started going door to door performing tricks for neighbors in their costume in exchange for candy and treats.
With the rise of Scottish and Irish immigration to the U.S. in the 1920s came the tradition of Samhain, which would be known as Halloween. Due to an increase in mischief, the U.S. tried to emphasize family-friendly activities in relation to the holiday. Community based trick or treating became a standard tradition in America and homeowners were encouraged to pass out candy to young ones wearing costumes on Halloween. Today, Halloween is the second largest commercial holiday in the country. To celebrate, candy companies all over the world release their Halloween themed candies in ghoulish shapes and hues. Here are some of our favorites!
---
Special Edition Halloween Candy
Candy Corn

Cadbury Screme Egg

Tootsie Caramel Apple Pops

Peeps Marshmallow Ghosts

Reese's Pumpkins

Dove Milk Chocolate Eyeballs

Halloween Dark Kit Kat

Mike and Ike Mummy's Mix

Pumpkin Chocolate Crisp Balls

M&M's White Booterscotch

Halloween Pez

Snickers Pumpkin

Cauldron Skittles

Twix Ghost

Starburst Halloween Mix
** Inventory changes every year for seasonal selection, so call ahead if you're looking for something specific this year!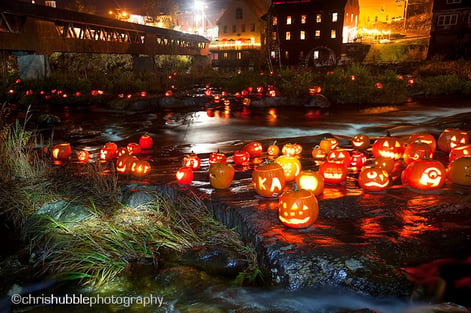 The Parade of Jack O' Lanterns
If you're planning on visiting Chutters for specialty holiday candy, don't forget that the annual Parade of Jack O' Lanterns is coming up in downtown Littleton! Carve a pumpkin to lay out next to the Ammonoosuc River and enjoy multiple days of festivities including the Boofest at the Colonial Theatre in Bethlehem, the Halloween Festival at Littleton High School, a Zombie Walk, and the traditional trick-or-treating festivities. Bring the family and enjoy a full weekend of Halloween fun in the White Mountains!
Fun Halloween Fact: Every year, comedian and talk show host Jimmy Fallon has a youtube Halloween challenge for parents with little trick or treaters. "I Told My Kids I Ate All Their Halloween Candy" features clips of parents revealing the bad news as a prank to their kids, and the reactions are hilarious. See more about it below.
Whatever your Halloween style, this holiday is spent best with family and friends eating your favorite treats and building new memories. Pick out your costume this year, go trick or treating with your kids, and close out the night with a fun Halloween themed party. While you're doing it, don't forget to pick up your favorite holiday candy at Chutters! Do you want more candy updates and short blogs like these? Subscribe to our monthly newsletter!