Mountain biking doesn't get much better than in and around Littleton, NH. There are serious mountain biking trail networks just ten minutes south in Franconia, NH as well as a bit north at Bretton Woods. But the town of Littleton itself is home to the PRKR MTN trail network, comprising 24 miles of single- and double-track bike trails on Parker Mountain.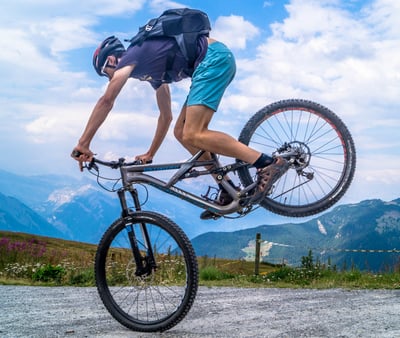 Mountain biking enthusiasts – experts and beginners alike – can turbo-charge the experience by demo-ing so-called "FAT BIKES" in place of bikes with standard 1- to 1.5" tires. Littleton Bike and Fitness, a HUGE bike and education shop just off Main Street in Littleton, rents fat bikes at $50 per day.
What are Fat Bikes?
Picture a Monster Truck Rally… for bikes!
Fat bikes have enormous tires to go over snow, slop, dirt, rocks and sand – and still deliver a smooth ride. These tires are between 4-5" wide and provide unbeatable biking stability on snow and loose surfaces. Full suspension is the new trend in fat bikes, so even steep trails are possible!
Where can I rent a Fat Bike?
Littleton Bike & Fitness is located in a renovated Ford garage on 28 Cottage Street in Littleton, NH. The store sells and rents bikes for all ages, experience levels and conditions. Littleton Bike & Fitness also coordinates the Littleton Landsharks, a biking group that rides every Tuesday at 6 pm. Special classes and events are scheduled throughout the year, so if you are interested, definitely check out their calendar!
Where can I ride?
PRKR MTN
The PRKR MTN trail network is a privately-owned network of maintained single- and double-track bike paths on 2,000-foot Parker Mountain, the highest point in Littleton, NH. More than 24 miles are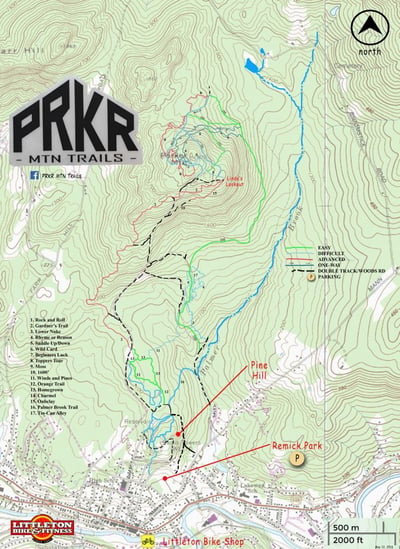 professionally maintained, with a design that points all trails back to Littleton's downtown region.
Bikers can park at Remick Park. Littleton Bike & Fitness also opens their parking lot to mountain bikers. Trails start at the top of School Street. A great loop to really get your blood flowing is Rock and Roll to Gardner's Trail to Linda's Lookout. The lookout provides awesome views of the northern Presidential Range of the White Mountains. Beginners can get back to town on I95 (in this case, the name of a bike path, not an interstate!).
After a great trip, bikers should check out the establishments along Littleton Main Street for food, drinks, entertainment and lodging!
Moore Dam Trail
This 3.5-mile trail follows the Moore Dam reservoir. This path is mostly flat, with bridges and flats requiring some technical biking. Day-trippers should consider packing a lunch to enjoy at a clearing alongside the water.
To reach the Moore Dam trail, take I-93 Exit 43 and then take a left off the exit ramp onto RT-135 North. Take a left onto Old Waterford Road. Continue to the end of road for parking. You will see signs for the trail on the left side of the lot.
Franconia Village X-C Ski and Outdoor Rec Trails
The Franconia Village X-C Ski Center has some trails open to fat bikes in the winter. This is a professionally maintained network of trails totaling over 40 miles. Most of the trails are intimate single tracks through the woods, over brooks and across meadows. Check out the White Mountain Bike Shop next door to the Franconia Inn for information and tips about where to go.
Kingdom Trails
This nationally recognized mountain biking trail network is located on Burke Mountain in Vermont, only 40 minutes northwest of Littleton. Over 110 miles of professionally maintained trails offer a variety of terrain, adventure and difficulty levels for all experience levels. More information online at http://kingdomtrails.org.
Whether you are an experienced mountain biker or just an outdoors enthusiast, consider planning a day of fat biking around Littleton, NH. Cheers to your adrenaline adventure!