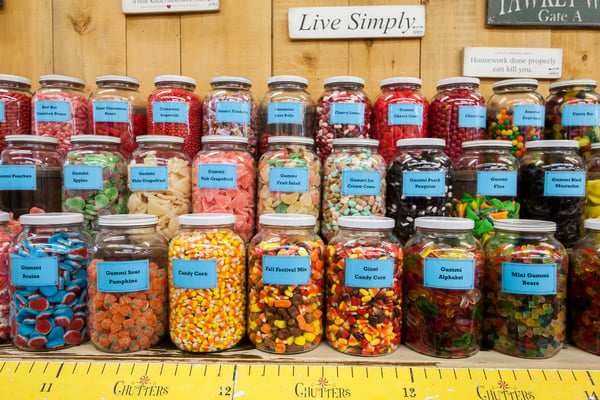 Chutters Candy Counter, since being added to the Guinness Book of World Records, has been known worldwide as the world's longest candy counter. Recently, Rick Ganley and Mary McIntyre visited us at the Littleton location to interview owner Jim Alden. This is part of Morning Edition's "Radio Field Trip" series, in which Rick and Mark explore NH's most beloved attractions.
Here is an excerpt from NHPR's, "Radio Field Trip: Browsing the World's Longest Candy Counter in Littleton".
"As I walk into Chutters candy store, I see jars upon jars filled with sweets. They line a three-tiered shelf that runs the entire length of the store. This is the world's longest candy counter, nestled in the White Mountains of New Hampshire. Licorice, gummies, chocolate, jelly beans, lolly pops the size of my head… They have every kind of candy imaginable. Fifteen-year-old Olivia is visiting the White Mountains with her family all the way from New Jersey."
In addition to a full tour, NHPR's Rick Ganley of Morning Edition, interviews Jim Alden, owner of Chutters. Click below to listen to the rest of the radio podcast to find out Alden's favorite candy and the length of the entire candy counter. Hint: it's over 100 feet!