Whether you're visiting Littleton, NH for a day or a week, at some point you're going to need to find a place to eat. Fortunately, Littleton is home to great dining and drinking establishments for couples, families, friends and other get-togethers. Planning your next trip to northern New Hampshire? Be sure to stop in and visit us at Chutters Candy Counter (you won't find better – or more – candy offerings anywhere else), then check out this list of restaurants to plan your meals.
Breakfast
The Coffee Pot
The Coffee Pot Restaurant is located at the eastern end of Main Street in Littleton, near the intersection with Cottage Street.
This diner's website states, "Our prices are so reasonable, that even on the last day of your visit to the White Mountains, you can still afford to eat here." With the renowned McKenna Special (Two eggs any style, golden home fries or hash browns, toast and your choice of bacon, ham or sausage) clocking in at $7.75, you can rest assured that this is not just lip service.
The Coffee Pot Restaurant has been a family-owned diner serving the Littleton community since 1980. Seating is limited, but the wait is worth it if you have the time to spare.
Littleton Diner
The Littleton Diner is a longtime repeat winner of the "Best of New Hampshire" award. This breakfast-lunch-and-dinner restaurant is a parlor car diner that first opened in 1930.
The Littleton Diner's website lists daily specials as well as its full menu for your perusal. You'd be surprised how much food you can get for such a reasonable price!
The diner is located halfway down Main Street in Littleton and is open seven days a week from 6 am to 8 pm.
Lunch
Chang Thai Café
Chang Thai Café is located at 77 Main Street in Littleton, just a block down from Chutters Candy Counter. This authentic Thai restaurant opened in 2008 by a chef from Bangkok, and was included in WMUR's "Top 3 Thai Restaurants in NH" list for 2015.
Chang Thai is open daily for lunch and dinner, and seeks to provide traditional Thai meals with a contemporary style.
In addition to a long and eclectic list of sushi (including Yellowtail Jalapeno, Sweet Potato, Christmas, Littleton and OMG), the lunch menu offers reasonable lunch specials at $9 a plate, such as Pad Thai, Drunken Noodle and Massamun Curry with choice of vegetable, tofu, chicken or beef.
Those looking to get an early start on the drinking hours might be interested in a Happy Elephant (Light and dark rum, coconut rum, apricot, peach, grenadine and fruit juice) or a Spice Sangria (LaBelle Granite State Red, peach schnapps, triple sec, pineapple juice and mango juice, garnished with a fresh orange slice).
Additionally, Chang Thai Café's website explains that "Chang" means "Elephant" in the Thai language, a symbol for long-term friendship and good fortune.
Dinner
Schilling Beer Company
Schilling Beer Company is a family-owned and -operated microbrewery and restaurant located at 18 Mill Street, behind Main Street in Littleton and right along the banks of the Ammonoosuc River. The Schilling family purchased and renovated a three-story gristmill originally built in 1797 into a brewery and taproom with a wood-fired pizza oven and comfortable seating for patrons.
Schilling is first and foremost a brewery of European-inspired beers, many of which will only ever be offered in the Schilling taproom. There you will find the Erastus, a dry, spicy, Belgian-style ale with hints of peppery spice, citrus and pear. Also popular is the Foy, a Belgo Pale Ale with notes of citrus and grass with a dry finish.
Beer enthusiasts will enjoy perusing their website, which lists all their beer offerings broken down by type and country of inspiration, including Belgian-Inspired Ales, Russo- and Scandinavian-Inspired Ales, and Czech-Inspired Lagers.
The menu is simple and locally-sourced, emphasizing the specialty pizzas cooked right in the middle of the restaurant on a wood-fired oven. Meat and cheese plates, a German-style bratwurst, a maple-flavored ham-and-cheese Stromboli, and more fill out the offerings.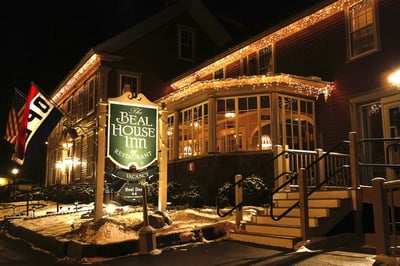 Beal House Inn & Tavern
The Beal House Inn & Tavern is located at the very western end of Main Street in Littleton. It is a very cozy and rustic New England-style dining room open for dinner 5-9 PM on Wednesday through Saturday. (Closed Sunday, Monday, & Tuesday).
The menu features gourmet American-style comfort food with ingredients sourced from local farms. One of our favorite dishes is the Prospect Farm Pork, with potato wedges, cabbage slaw, cornbread, and (of course) BBQ sauce, at the price of $21. Those in the mood for pasta made want to try the Meadowstone Farms Goat Cheese Gnocchi with romanesco broccoli, tomatoes, mushrooms and chive for $18.
The shiny copper-top bar serves a full menu of beer, wine and cocktails. If you're on a budget and in town on a Thursday night, check out the Beal House's Thursday "Burger Night" special: A craft draft beer and a burger for $11!
We look forward to welcoming you soon to Littleton, NH and Chutters Candy Counter – the longest candy counter in the world! Grab a bite at one of the establishments listed above and come visit us to see why we are a destination in the White Mountains that is not to be missed!