Located in the picturesque White Mountains, the small town of Littleton, New Hampshire is your perfect year-round mountain getaway destination. Regularly awarded the prestigious Main Streets Across America award from the National Life Group, Littleton is a little slice of New England heaven.
Home to incredible scenic views of the White Mountains and beyond and historic brick buildings and wooden clad houses dating back to the 1800s, the charm of the small mountain town will never wear off. Of course, the friendly locals are just icing on top.
Littleton is a wonderful place to base yourself for an outdoor adventure focused mountain getaway. From skiing to mountain biking to hiking and everything in between, you can do it all in Littleton and the surrounding towns.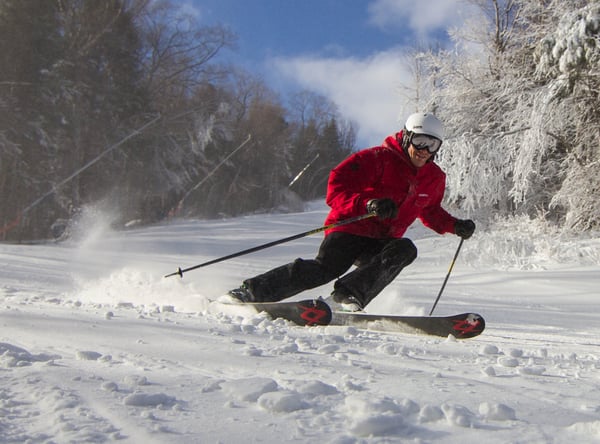 Skiing
Perfectly situated near several ski resorts, like Cannon Mountain, Loon Mountain, and Bretton Woods, Littleton definitely has the "ski bug." And did you know that America's oldest ski shop is located in the heart of Littleton? Lahout's Ski Shop, with six locations in Littleton and nearby Lincoln, has humble beginnings. In 1920, Herbert and Anne Lahout started pedaling goods from a horse and wagon and out of the old Grange Hall in Littleton. With the help of son, Joe who developed a passion for skiing at Remich Pack, Lahout's became a ski shop. Today, you can find everything you need from skiing to camping to hiking the Presidential Range.
While having America's oldest ski shop in town is bragging rights enough, Littleton is also home to its very own ski hill – Mt. Eustis Ski Hill! Mt. Eustis first opened its slopes in 1939 but shut down in the 1980s. A dedicated group of locals came together in 2014 and after some hard work, opened the small ski slope once again for the town to enjoy.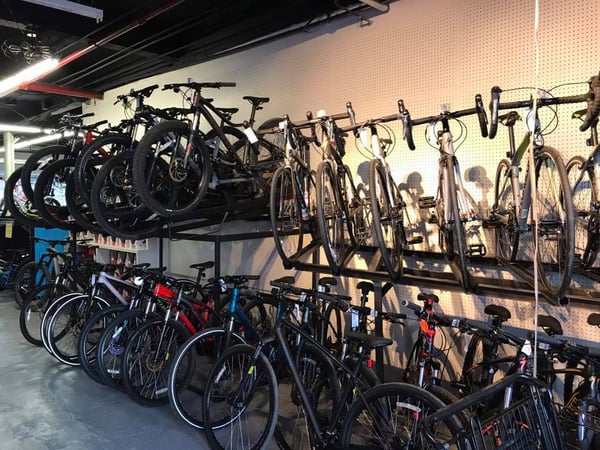 Cycling
Littleton is a hidden gem for mountain biking and fat biking. PRKR Mountain is nestled just a short distance from Main Street and offers a network of 23 handbuilt community-drive trails for mountain biking (fat biking during the snowy winter months), trail running, hiking, cross-country skiing, and snowshoeing. The trails are maintained by dedicated volunteers and are open to the public year-round. Throughout the year, you'll find events like a poker run or running races.
Kingdom Trails is just across the border in Vermont and is said to be mountain biking mecca for many New Englanders. The park is home to over 100 miles of non-motorized recreational trails for mountain biking, cross-country skiing, and running depending on the time of year. There are trails for all ages and ability levels from technical single track to flat and wide trails for beginners.
Let's not forget the road cyclist! The western White Mountains is home to some incredibly scenic views and lots of quiet country roads for cyclists. Of course, being nestled in the mountains, we hope you like climbing! Two of infamous road rides in the area are the Kancamagus Highway and Route 302. The Kancamagus Scenic Byway is a 34.5-mile route along NH's Route 112 that will take you just under 3,000 feet of elevation over Kancamagus Pass. You can always ride from Bethlehem to North Conway through Crawford Notch on Route 302. Remember, bikes are prohibited from I-93.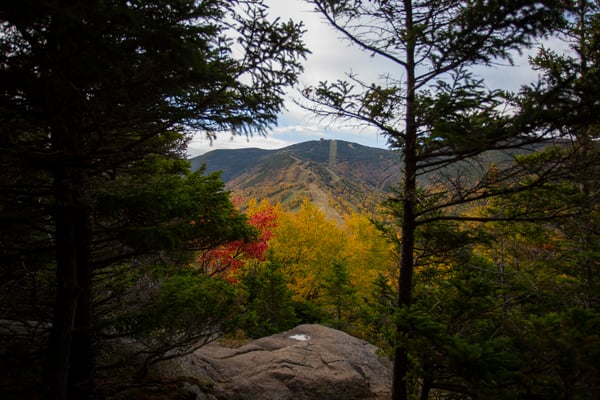 Hiking
The White Mountains are home to thousands of miles of hiking and walking trails for all ages and ability levels. Kilburn Crags Trail is one of Littleton's best-kept secrets. Known as "The Crags" to the locals, the scenic trail is a 1.4-mile round-trip hike offering spectacular views. Ranked as one of the best hikes in the world, Franconia Ridge Trail Loop is an epic hike that you have to do at least once in your life. The 8.6-mile loop trail will take you over three peaks each with panoramic views of the Presidential Range and beyond. Mount Garfield Trail in Bethlehem is a 10.3-mile out-and-back trail that is good for those looking for a moderate yet long hike.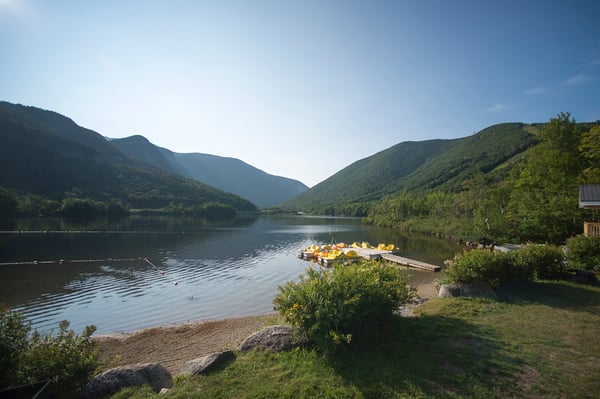 Swimming and Watersports
During the hot summer months, nothing feels better than washing the sweat off your skin in the lake. Moore Reservoir is a great spot for swimming, kayaking, paddleboarding, and other watersports. Bring a picnic and enjoy a little sunbathing on the public beach. The Littleton Public Pool is a popular spot for the kids and offers swim classes, senior fitness classes, and a swim team. Don't forget to apply sunscreen to protect your skin!
Littleton, New Hampshire is the perfect small town mountain getaway for the adventurous family. It's also great if you just want a little solo R&R too. Main Street is home to wonderful restaurants, cafes, shops, and places to sleep at night. We hope to see you soon!