Does a love of candy ever age? We don't think so… but we may be slightly biased given that we sell it. That being said, we realize that you may want to try a new flavor combination or are hoping to enjoy your favorites differently as you age. No matter your age or stage, we've curated some of the most fun ways to get your sugar fix.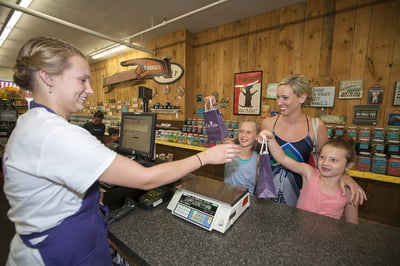 For Kids
Up the Value of a Sandwich Cookie
Did you know that Chutters sells a wide variety of fudges? While there are many more, here are a few of our flavors: Orange Dream, Pecan Turtle, Carrot Cake, Chocolate Orange, Tiger Butter, Chocolate Raspberry, Strawberry Cheesecake, and Moose Tracks.
Who says you need to wait for a big brand to put out seasonal flavors? It doesn't take a wild imagination to think how great a sandwich cookie with fudge inside could be! Get creative and taste all the combinations (just pace yourself… you have a lifetime to try them).
Better S'mores
One of Cobra Kai's leading ladies promoted the power of a s'more (on the show, a Sam'ore) with a Reese's® peanut butter cup instead of a simple chocolate bar and we don't disagree with that logic at all. Toasty, peanut-buttery, chocolatey. You know you want to try it!
Dirt Pie
Gummy worms are chocolate pudding's best friend. And no other recipe illustrates this better than one for Dirt Pie. This classic kids treat is always a hit. Check out this take from On My Kids Plate to make your own.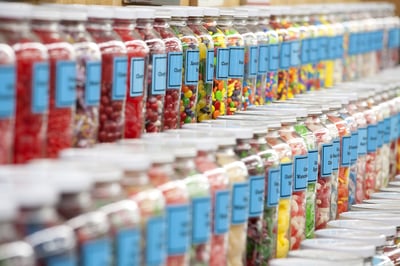 For Adults
Pop Rocks Rims
Pop Rocks® drink rims are amazing for any celebratory, sweet drink.
In particular, Pizzazzerie has a great tutorial on Pop Rocks® rims with lemon juice. As they say, these are particularly fun for fireworks-forward holidays like the Fourth of July or New Year's Eve.
Rock Candy with Champagne
Added a stick of rock candy to your champagne flute makes it look extra and sweetens the deal. Plus, you can pick the color based on your mood or the theme of the event or gathering you're having!
Make Your Spirits… More Spirited
This is a classic college choice, but if you don't know this, you can place hard candies (like Jolly Ranchers®) into spirits like vodka, wait for them to dissolve, and wah-lah, a new flavored vodka! Sour ones tend to work really well. Just take it easy, because it's still vodka.
Cheese, Please!
While some kids might appreciate cheese with their candy, we're willing to bet adults will find this more appealing than they would, so it's landing in the adult category.
The Kitchn has paired up some unexpected suspects including Blue Cheese and Reese's® Peanut Butter Cups, Triple Cream and Hershey's® Special Dark Chocolate, and even Alpine-Style Cheese and Skittles®! Take a look at all the cheesy possibilities. You'll be amazed.
It's the Notes for Me
It's widely understood that wine has different notes and even in some of the less sugary varietals, there are still notes that are quite sweet. One classic pairing is red wine and chocolate. Bite, sip, oh yes.
You can explore other wine and candy combinations like Candy Corn® and chardonnay here, from Total Wine.
Candy Beer?
Candy and beer? Yep! It's a thing! Just look at some of the creative options that Domestic Fits came up with. Brown Ale, Stout, or IPA, there's a candy for that.
Hot Cider
Hard cider is popping up everywhere, and depending on which variety you choose, there's a candy to add. Our favorite idea from this list by Cider Culture is adding Red Hots®. Cinnamon and cider seem like a natural choice to us… yum!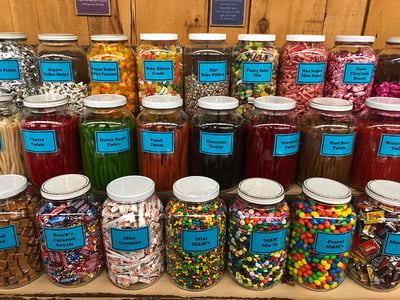 For Anyone
Hodge Podge Charcuterie
When most people set out different candies, they put them out in a bar set up to be used on top of ice cream, but have you ever considered getting a little artistic with them instead? Take as many kinds as you want and make a cheeseless, meatless charcuterie board! They're great for sugary sleepovers, friend nights, or movie evenings.
Hot, Hot Cocoa with Peppermint
While you can dissolve most candy in hot drinks, a winter favorite is peppermint sticks in hot chocolate. It's warm and refreshing at the very same time. Some choose to go the extra mile and crush them up and melt them in the milk, while others use them as special flavored stir sticks. You do you!
Popcorn Has Options
Popcorn doesn't just have one match… it has a bunch! Salty and sweet, it doesn't get more classic than that. Some you might try with it though are M&Ms® and Sour Patch Watermelon®. The Takeout explores other movie candy combinations in-depth, here.
What pairing entices you the most? Do you need supplies? Stop into Chutters and grab what you need to excite your tastebuds.