Over the past century, gummy bears have been an international favorite! Fans of the gummy bear have made 26 pound versions, clothing, art, and food recipes around around this gelatin confection. The gummy bear is only four years away from its 100th anniversary, so start stocking up now to celebrate! Here are the 11 things to know about gummy bears.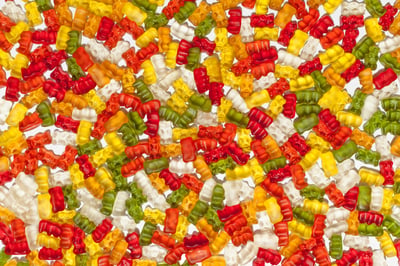 1.Gummy bears were invented in 1922 by Hans Riegel, owner of Haribo and citizen of the Bonn District
2.Haribo is an abbreviation of "Hans Riegel Bonn". So, basically, he name the candy company after himself
3.The original name of the gummy bear was "dancing bears treat", which was inspired by live bear shows. While the exact show isn't the show that inspired gummy bears, Clark's Trading Post in Lincoln, NH, hosts regular live bear shows.
4.Some Haribo gummy bears don't follow the color to flavor combinations we are familiar with. For example, the green is actually strawberry and the clear one is pineapple.
5.For $150, you can buy a 26 pound gummy bear on the internet! Make sure you bring your fork and dinner knife to eat this massive treat
6.Disney's first major animated series was based off of gummy bears, called "Adventures of the Gummi Bears"
7.Gummy candies are called "gummies" because they originate from the ingredient "gum arabic", which gives them their gelatinous texture
8.In today's candy world, there's a lot more than just gummy bears. Candy makers make gummy sharks, worms, fruit slices, strings, and more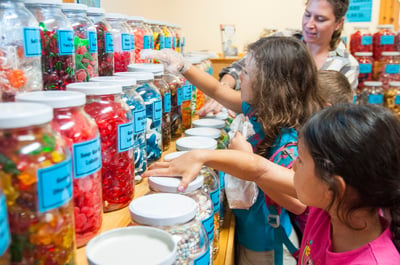 9.Fashion designers replicated an Alexander McQueen dress out of 50,000 gummy bears
10.Chutters Candy Counter in Littleton, NH, offers dozens of gummy options and you can customize your bag of candy so you have the perfect balance of flavors and shapes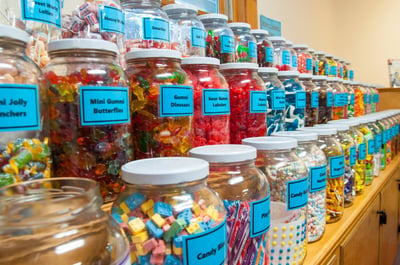 11.Potassium chlorate and gummy bears create a light show of a chemical reaction when combined. Disclaimer: we do not recommend trying this at home!
There's a lot of history and fun facts behind gummy bears! Visit us at Chutters in Littleton for all the best gummy varieties at the world's longest candy counter. We also have homemade fudge, truffles, and candy along with NH maple syrup, chocolate candy, souvenirs, and more. Plus, if you'd like to see more candy information like this, please subscribe to our monthly newsletter.