Home to the breathtaking Franconia Ridge, the small mountain town of Franconia is more than just a pitstop along I-93 in New Hampshire. Book a weekend away in Franconia and discover the incredible outdoor activities you can do year-round in the town named after a mountainous region in Switzerland.
Shopping
Franconia might be a small town focused on the many outdoor activities, but there are a few places you'll want to stop by to shop. Garnet Hill, the natural fibers retail giant, calls Franconia home. Just down the street from their corporate headquarters, you'll find the Garnet Hill Outlet Store. Shop for women's clothes, bedding, home décor and more all at a huge discount.
The Western White Mountains is home to an abundance of mountain bike trails, trails in downtown Franconia, Bethlehem and Littleton. For all your bike needs in Franconia, head to the White Mountain Bike Shop next to the Franconia Inn. Rent, buy, or have Bob give your bike a tune-up before hitting the trails or road this summer. For all your souvenir needs, visit the Tramway Country Store at the base of Cannon Mountain to remember your visit to Franconia for years to come.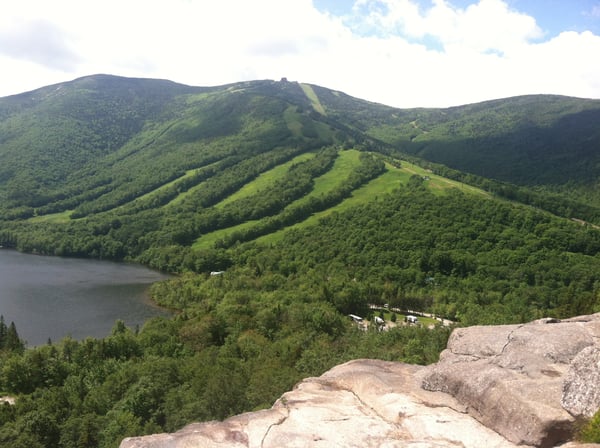 Things to Do
Franconia is home to one of the most popular state parks in New Hampshire, Franconia Notch State Park. The almost 7,000-acre state park was once home to the famous Old Man of Mountain. Despite the Old Man collapsing in 2003, thousands of visitors near and far come to visit the park's many attractions. The Flume Gorge, first discovered in 1808 by 93-year-old "Aunt" Jess Guernsey, is a natural wonder at the base of Mount Liberty. The 2-mile loop Flume Trail will take you on an adventure through the 90-foot tall granite gorge.
Enjoy a birdseye view of the White Mountains from the Cannon Mountain Aerial Tramway. Built in 1939, the Aerial Tramway was the first passenger aerial tramway in North America. The 80-person tram car brings guests up to the 4,080-foot summit of Cannon Mountain in under eight minutes. For more scenic views, lace up your hiking boots and head up the steep 1.5-mile loop up Bald Mountain and Artists Bluff.
New Hampshire has a long ski history and there's no better place to learn about it than the New England Ski Museum in Franconia. The permanent exhibition, From the First Tracks to the Fall Line: Eight Thousand Years of Skiing, features lots of interactive displays, including Bode Miller's Olympic medals!
For a unique experience, explore the White Mountains by horseback with Franconia Notch Stables. Enjoy incredible views of Mt. Lafayette, Cannon Mountain, and Kinsman Ridge from the comforts of your saddle. Tours are available for all ages and abilities. Named one of the World's Best Hikes by National Geographic, the Franconia Ridge Loop is a nine-mile, seven-hour hike that transverses Mount Lafayette, Mount Lincoln, and Little Haystack. The challenging hike offers breathtaking views of the Presidential Range in the East along with views that expand to Maine, Vermont, New York, and Canada on perfect bluebird days.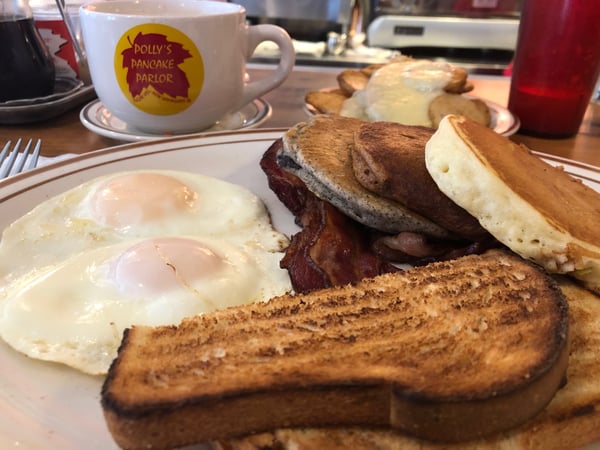 Where to Eat
Located not far from Franconia in Sugar Hill, Polly's Pancake Parlor is world famous for its delicious pancakes. For over 75 years, Polly's serves up a variety of homemade pancakes topped with its own maple products. Get there early as there is always a line! Serving breakfast, lunch, and dinner, Plain Kate's Riverside Saloon has an extensive menu, so you'll always find something that tastes good.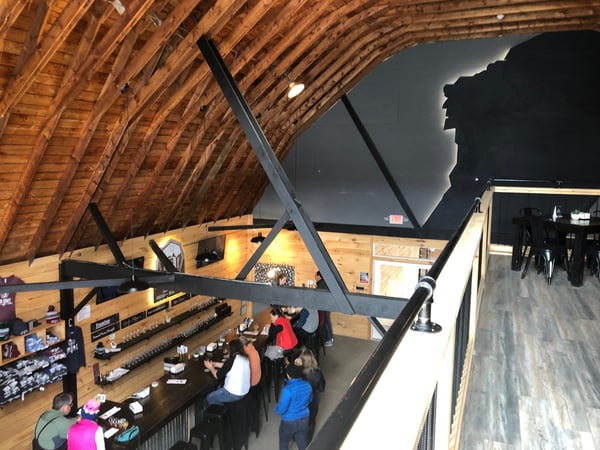 Don't want to miss the big game after a day of hiking or skiing, head to the Dutch Treat, Franconia's favorite sports pub. Founded by four Northern New Hampshire friends in 2017, Iron Furnace Brewing has quickly become a local favorite amongst the North Country beer drinkers. The brewery brews a variety of New England IPA, pale ales, stouts, porters, goldens, and sours. There's always something on tap that with quench your thirst after a long day on the trails.
Where to Stay
For a true White Mountain experience, pitch a tent at Lafayette Place Campground and wakeup to the birds chirping in the early dawn light. Located in the heart of Franconia Notch State Park, the campground has 97 campsites and hot showers and toilets. If you're traveling by RV, the Cannon Mountain RV Park has seven full-hookup campsites.
For a charming New England experience, book a room at one of the quaint bed and breakfasts dotted throughout the White Mountains. The Horse & Hound Inn has welcomed guests since 1946. With three fireplaces, knotty pine paneling, and beautiful gardens, you'll enjoy the classic New England inn year-round. Built in the era of the Grand Hotels, the Franconia Inn has been providing a place for guests to rest their heads since 1863. Offering incredible views of Mount Lafayette, Franconia Notch, and the Kinsman Range, the inn features 29 cozy guest rooms and an abundance of activities, like cross-country trails, ice skating rink, and swimming pool.
Book a Weekend in Franconia
Whether you're coming to pay your respects to the Old Man of the Mountain or to ski in Bode Miller's tracks, Franconia has a lot to offer guests year-round.