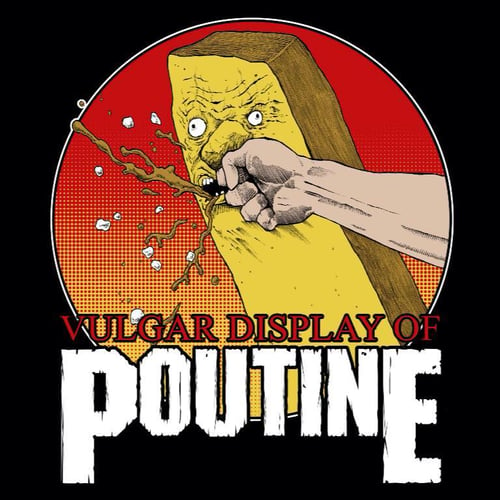 Whoever decided to pour gravy and cheese curds on top of French fries is a genius. Known as Canada's national dish, poutine can often be found in many towns across northern New England with large Francophone populations. In 2020, poutine came to the small mountain town of Littleton where it has since become a local favorite at Vulgar Display of Poutine.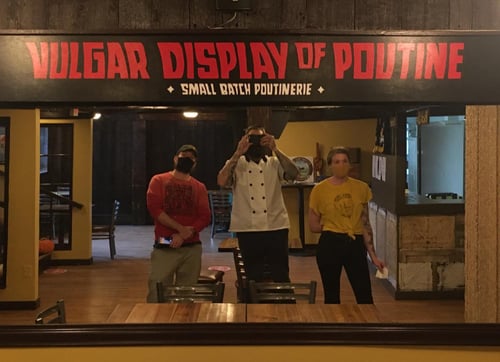 Behind the Scenes
Ryan Fisher, who spent most of the past 10 years as a drummer in the punk-rock band, Off With Their Heads, opened Vulgar Display of Poutine in Island Pond, Vermont with his longtime girlfriend, Shannon Shepard in 2019. In summer 2020, Fisher and Shepard opened a new location at the Thayers Inn in Littleton.
The restaurant is named after an album by Fisher's favorite musical group, Pantera. Originally from Tewksbury, Massachusetts, Fisher attended the Le Cordon Blue College of Culinary Arts in Dover, New Hampshire. While in school, he was playing in another band that happened to cross paths with Off With Their Heads who needed a fill-in drummer and guitarist. Fisher and his cousin, Jim Domenici, joined the band and spent the better part of the past decade touring around the world playing gigs.
In 2016, Fisher and Shepard won the inaugural NH PoutineFest after only doing a handful of "pop-up" events in Massachusetts. Their winning dish contained poutine topped with pork shoulder, bacon, onion, jam, scallions, and mushrooms. After three years of cooking their hearty and savory dishes in a portable kitchen, Fisher and Shepard decided it was time to find their permanent home. And that led them to Littleton.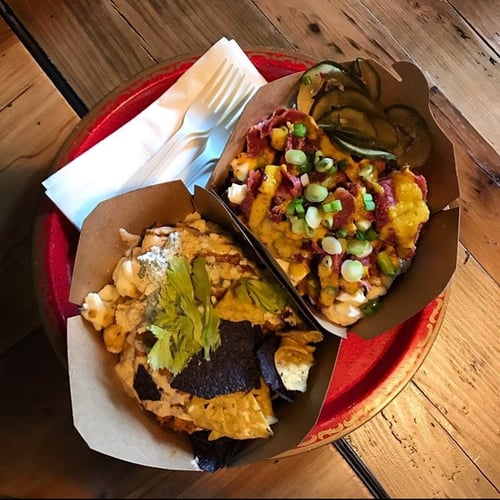 On The Tables
Unlike many other poutine places, Vulgar Display of Poutine uses thick fries as they can "stand up better to the gravy." While the poutine menu changes regularly based on the season and available ingredients and Fisher's creativity, you'll always find some staples on the menu like The Regular. If you're new to the poutine scene, The Regular is your traditional Quebec style poutine with cheese curds, gravy, and scallions on top of fries. And the delicious cheese you find on top of all the poutine comes from Nothin' But Curd in Troy, Vermont.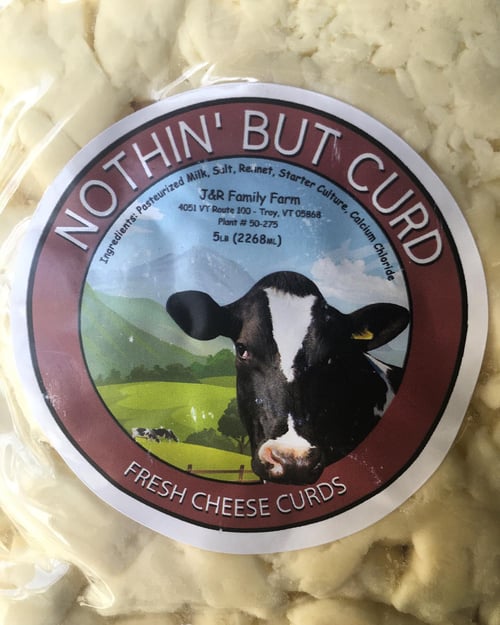 If you're on the adventurous side, the A.P.I.G. is the award-winning dish that won them the title at the inaugural NH PoutineFest in 2016. Grammy Shepard's Mac & Cheese, which has house mac & cheese, all-beef hot dog, toasted panko breadcrumbs, truffle oil, Cheez-It, and scallions on top of The Regular, is a mouthwatering combination that will leave you wanting more for weeks to come.
Vegan and gluten-free people don't worry as Vulgar Display of Poutine has you covered, too! Most poutine dishes can be made gluten-free, vegan, or vegetarian. The restaurant is open Thursday through Sunday with extended brunch hours on Sunday. The Sunday Brunch Poutine menu is filled with delicious offerings that will leave you more than full until dinnertime.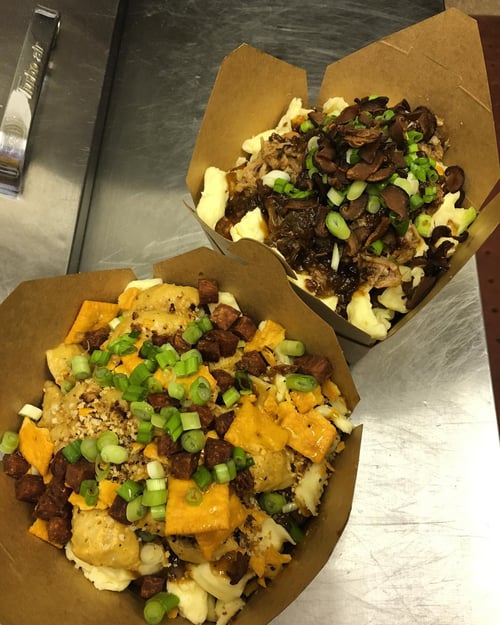 Squeakin' Good
Did you know that cheese curd "squeaks"? Find out for yourself with a delicious serving of poutine from Vulgar Display of Poutine in Littleton. For their latest menu, check out their Facebook page.