Named one of America's Best Main Streets, Littleton is a great place to hang out after a day of skiing. It doesn't matter if you just got off the rope tow at Mt. Eustis or one of the high-speed quads at Bretton Woods, downtown Littleton is the perfect small New England town that keeps you coming back for more. You can catch a movie, drink some craft beer, or even enjoy some more skiing with night skiing at Mt. Eustis.
Jax Jr. Cinemas
Jax Jr. Cinemas might be small, but this two-screen intimate theater is mighty. It has all the latest technology including 3D! Jax Jr. sits in a significant spot in downtown Littleton. Before Jax Jr., the Premiere Theatre called the spot home until it was destroyed by fire in 1924. It was rebuilt, and in 1941, history was made. The little theatre became the spot for the World Premiere of Bette Davis' new film, "The Great Lie."
In 1951, Jax. Jr. opened with the showing of "Royal Wedding" starring June Powell and Fred Astaire. A year later, Jax Jr. received the Jay Emanuel Merit Award, the highest honor given by the Motion Picture Industry.
Today, downtown Littleton's little movie theater is New Hampshire's first all Digital 3D Cinema showing all the latest movies. Grab some popcorn, have a seat in the new high back rocking chairs, and enjoy Hollywood's next big blockbuster.
Schilling Beer Co.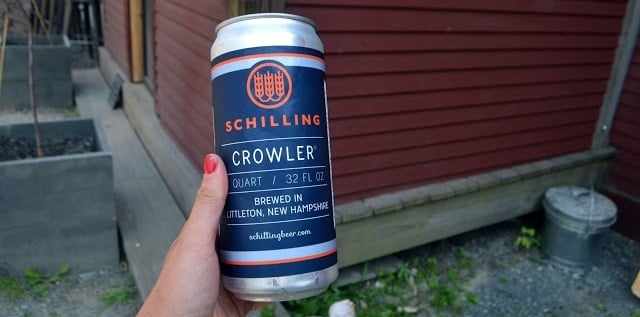 Schilling Beer Co. is one of the newest kids in town. Housed in the 18th-century grist mill on the Ammonoosuc River, Schilling Beer Co. is brewing some incredible progressive continental European-inspired beers. All the beer is brewed in small 7-barrel batches, and most will never see life outside of the brewery's door, so you best get yourself there to enjoy them! Not only is their beer delicious, but their food menu is also just as good. Using local meats and cheeses, they create some very creative and tasty Neapolitan-style pizzas in their wood-fired oven.
Beal House
For fine dining with a touch of New England charm, make a reservation at the Beal House. Beal House is a traditional New England Inn with an excellent in-house restaurant featuring classic American tavern dishes. The restaurant is cozy, and Chef Adam Alderin was a semi-finalist for the James Beard Rising Star Chef of the Year in 2008, so you know the food will be excellent. You'll find everything from roasted free-range chicken to seared sea scallops to slow cooked turkey confit pot pie on the menu. Don't forget to sip one of their specialty cocktails on their copper-topped bar.
Chang Thai Café
It's hard to find good Thai food in the remote areas of New Hampshire, but Littleton is lucky to have fantastic Thai food at Chang Thai Café. The owner, Emshika, grew up learning to cook with her mother and grandmother in Bangkok, so it was only natural for her to follow in her mother's footsteps after moving to New York. Chang Thai Café is an upscale, contemporary restaurant serving mouth-watering traditional and creative Thai dishes. You'll also find plenty of other options like Korean Beef, Sushi, and Sashimi on the menu.
Night Skiing
Mt Eustis Ski Hill, Littleton's volunteer-run ski mountain, offers night skiing when Mother Nature allows. With a motto of "bringin' back the good ol' days," Mt. Eustis is a great place to learn how to ski or just to enjoy the pure fun of gliding down a mountain as fast as you can. For just a $5 donation, you can ride up the rope tow and ski down the hill as many times as you'd like.
Bretton Woods also offers night skiing on most Fridays, Saturdays, and holiday periods. Only five trails and two lifts are open, but you can enjoy the thrill of skiing under the lights. For $25, you can enjoy a pasta dinner and a night of skiing with Bretton Woods' Powder & Pasta deal.
If skiing isn't your thing, take a look at all the things you can do if you're not a skiier!
Snow Tubing

If your legs are too tired for night skiing, why don't you hop on a snow tube? Bretton Woods Nordic Center is home to a perfectly sculpted tubing hill that is sure to make you squeal with delight. Open daily from 10 am to 5 pm, and for the night during school vacation and holiday periods, children and adults of all ages will love flying down the hill on a snow tube. You can also try ice skating, snowshoeing, and indoor rock climbing at Bretton Woods, so there is plenty to do to keep you busy all day and night long.
Shopping
Littleton's Main Street is a special place. It's why it has won many awards over the years. It's not the street itself that is special, but it's all the shop owners, local residents, and visitors that make it unique. Littleton's Main Street is lined with lots of fabulous boutique and one-of-a-kind shops.
Shop for gifts, home décor, jewelry and more at Pentimento. The owners are quite the characters so make sure you stay for a chat. Go to Bella Funk Boutique for all your denim, clothing, and jewelry needs. Northern Lights Music has been in business for over 36 years specializing in guitars and accessories. And, that's only a small selection of all the wonderful shops you'll find in Littleton. Don't forget your credit card!
Whether you make Littleton your home base for your ski trip or just passing through on your way home, Littleton is a great place to enjoy life after a day of skiing. Still not sure what to do? Just ask one of Littleton's many friendly locals! Are you interested in getting monthly updates about Littleton? Know what the locals do, and subscribe to our monthly newsletter.