Have you ever visited the Littleton Library and wondered who the little girl with a big floppy hat and open arms is?
Well, that's Pollyanna. In 2002, Littleton unveiled the famous bronze statue in honor of Eleanor H. Porter, who was a Littleton resident from 1868 to 1892 and wrote the classic children's novel, Pollyanna. In 1960, Disney adapted a film version starring Hayley Mills, who won an Oscar for her role.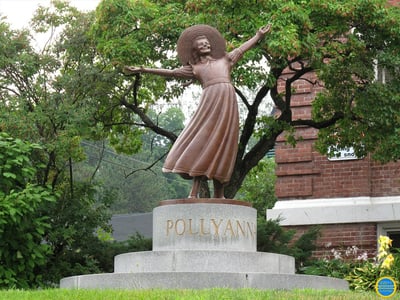 Porter wrote the best-selling novel in 1913 about a young orphan in the fictional town of Beldingsville, Vermont. Pollyanna Whittier lives with her wealthy, but strict aunt, Polly, who feels it's her duty to care for her late sister's daughter. Pollyanna believes in "The Glad Game," a self-professed optimistic and positive attitude that her father taught her as a young girl. The game requires Pollyanna to find something to be glad about even in the toughest times. Pollyanna's happy personality brings tons of "gladness" to Beldingsville and transforms the once bleak town into a pleasant place to live.
Eleanor Hodgman Porter (pictured right) was born in Littleton on December 19, 1868. She attended the Littleton High School but was tutored at home due to poor health. Despite her poor health, Porter was a gifted vocalist and often sang at community and church social events. She wrote her first short story at age 33, and her first novel, Cross Currents, in 1907. Over the course of her life, she published more than 200 short stories and 15 novels, including the best-selling Pollyanna in 1913.
Pollyanna sold over a million copies across the United States and Europe and was translated into 12 languages. The first Pollyanna film starred Mary Pickford in 1920 and was later adapted by Disney in 1960 starring Hayley Mills. Unfortunately, the Disney film does not follow a similar storyline as the original novel. Many of the characters and even the town name was altered. Porter passed away on May 21, 1920 in Cambridge, Massachusetts at the age of 51.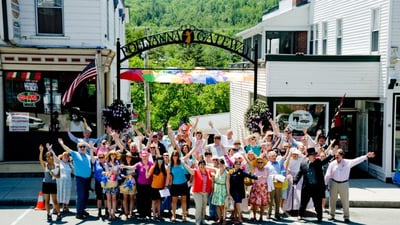 The life-sized statue of Pollyanna created by Emile Birch was purchased through a grant from the New Hampshire State Council on the Arts in 2002. Today, the statue is maintained and promoted by the Pollyanna of Littleton New Hampshire, Inc and supported by many other organizations across Littleton, like the Littleton Public Library, Littleton Area Chamber of Commerce, and Littleton Area Historical Society.
Every second Saturday in June is designated the Official Pollyanna Glad Day (pictured below) on main street in Littleton. This year's event will be held on Saturday, June 9, 2018 marking the 16th anniversary of the historic unveiling of the statute. In addition to the anniversary, 2018 also marks Eleanor H. Porter's 150th birthday! There will be a parade, signature award, group photo, and lots of things to do across town. Don't forget to rub Pollyanna's foot for good luck!
Would you like to stay up to date on more events like these?