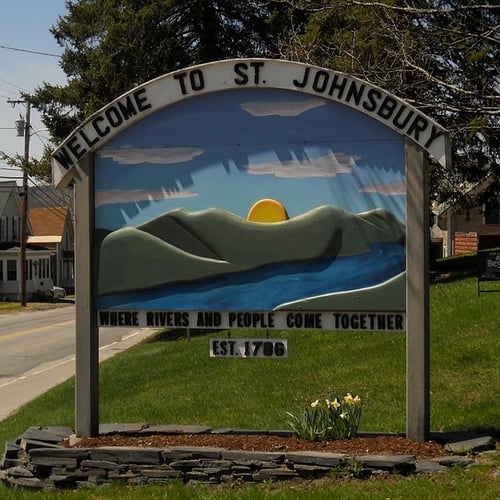 Just across the Connecticut River from the shores of Littleton is St. Johnsbury, Vermont, and its surrounding small rural towns. Similar to the Greater Littleton area, St. J as it is called by its locals is the largest town in the Northeast Kingdom and offers an abundance of things to do year-round. From mountain biking to beer tasting to museums, here are a few of our favorite things to do.

Catamount Arts
For almost five decades, Catamount Arts has worked to make the arts a fundamental part of community life. Serving as a full-service arts center in northeastern Vermont, Catamount Arts has grown to be the cultural, entertainment, and arts home for 40,000 visitors each year. Catamount's vision is to serve as a creative backbone for the region, acting as an essential force for the Arts and enhancing the economic and cultural climate of communities throughout Northeastern Vermont and Northwestern New Hampshire.
Since their humble beginnings as a traveling film presenter in 1975, Catamount Arts now offers foreign, independent, and classic films; exhibitions by local and regional artists; live music, dance, and theater performances; summer camps and arts education programming for children; a regional box office for more than 40 organizations; and a gathering space for community events. Catamount produces the KCP Presents Performing Arts Series, bringing world-class professional performances to Vermont's rural Northeast Kingdom; First Night North, one of only two family-friendly, alcohol-free New Year's Eve performing arts festivals in Vermont; Circus Smirkus in St. Johnsbury; the EPIC Music Program and the Levitt AMP St. Johnsbury Music Series and much, much more.

Fairbanks Museum & Planetarium
Located in the heart of St. Johnsbury, the Fairbanks Museum was founded in 1889 by Franklin Fairbanks. Within the historic brick Victorian building, you'll find unique exhibits, including hundreds of taxidermy animals, insects, shells, fossils, and more. The planetarium opened in 1961 and features guided tours of the cosmos and nature shows.

Dog Mountain
Dog Mountain, and specifically the Dog Chapel, is really a place unlike any other. Created by the late Vermont folk artist Stephen Huneck and his wife Gwen, the non-profit organization Friends of Dog Mountain--dedicated to stewarding and sustaining the property--assumed ownership in 2017. There are 150 acres of trails, ponds, and fields where dogs are free to run and play. Guests love to peruse Stephen Huneck's dog-centric original art, sculptures, and furniture in the art gallery or take home a little piece of Dog Mountain by purchasing a souvenir in the gift shop.
Nestled next to the Gallery is Stephen Huneck's greatest and most personal artistic contribution, the iconic Dog Chapel. Designed to look like a small New England church, the stained glass windows, pews, steeple and even the doorknobs are decorated or carved with the images of dogs. The walls are covered floor to ceiling with hundreds of thousands of notes, pictures, and remembrances dedicated to the pets visitors have loved and lost. The Dog Chapel has become a living piece of communal art and history, ever-evolving with each new note and photo pinned to the overflowing walls, making it a unique and moving physical embodiment of the unending love people have to give. ' Dog Mountain is the happiest place to be sad.'
Lamoille Valley Rail Trail
Lamoille Valley Rail Trail is New England's longest rail trail spanning 93 miles from the Connecticut River Valley to the shores of Lake Champlain. The rail trail is a four-season, multi-use trail that is popular for cycling, hiking, horseback riding, cross-country skiing, and more. The eastern trailhead is located on Main Street in St. Johnsbury.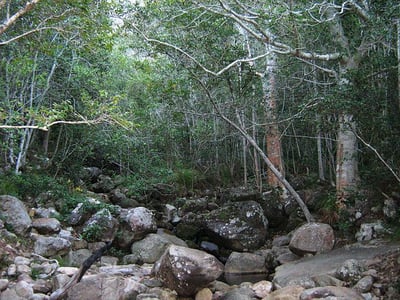 Forgotten Village at Greenbank's Hollow
New England is well known for its textile and manufacturing mills of the 19th century. The small town of Danville was once home to a five-story woolen mill, grist mill, sawmill, and more. The former village of Greenbank's Hollow sounds like a town out of a fairytale and once was a bustling small industrial town. The town was essentially destroyed by fire on December 14, 1885. Instead of rebuilding, Greenbank relocated all the mills to nearby Enfield, New Hampshire where a new railroad spur was supposed to be built.
Today, you can visit the former site of Greenbank's Hollow through the restored covered bridge and the historical park. You can visit the former stone foundations of the mills along the banks and picture the once busy little town from the 19th century.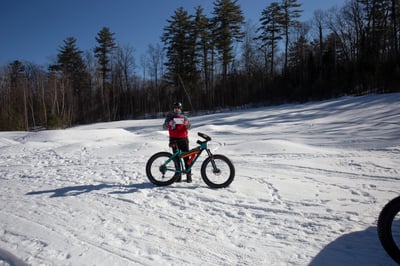 Kingdom Trails
The Kingdom Trail Association (KTA) in East Burke maintains over 100 miles of non-motorized, multi-use recreational trails world famous as a mecca for mountain biking. Spanning 4 towns, across county lines, and entirely on private land, the trails traverse through varied terrain and a beautiful pastoral landscape and are accessible for all ability levels. During the winter months, Kingdom Trails grooms over 38 miles of trails for fat biking, cross-country skiing, and snowshoeing.
A KTA Membership is required to access the network and not only grants you access to the trails, but supports the mission of providing recreation and education opportunities to the local community and visitors. Don't have a mountain bike? Rent one from Dave at Littleton Bike & Fitness!
Whirligig Brewing
Located in St. Johnsbury, Whirligig Brewing brews a large variety of beers from New England IPA to Kolsch to Sours. The tap list changes regularly so you never know what may spark your interest and make your taste buds dance. While you enjoy a pint or two, you can order delicious small dishes from Wandering Vines.

Red Barn Brewing
Opened in 2016 in Danville, Red Barn Brewing was started by two best friends in a red barn. It doesn't get more Vermont than that! Brewing mainly more traditional styles of beer, like American Pale Ale, Saison, and Bavarian Wheat, Red Barn has about 10 beers on tap at all times. In addition to the beer, there's an excellent pub-style food menu as well.

Great Vermont Corn Maze
Opened from August through the fall, the Great Vermont Corn Maze is a Vermont fall tradition. Covering 24 acres and taking about three hours to complete, the Big Maze is the largest corn maze in New England. Don't have time for the Big Maze, the Scenic Maze can be done in under 40 minutes. Leading up to Halloween, there is also a haunted maze for the brave souls.
With tons to do in the Northeast Kingdom, head across the Connecticut River to discover the best of what the area has to offer.