Staying in the White Mountains region is always a wonderful choice. Whether you're traveling with a group of friends, your family, or even solo, there's a wide variety of activities to take advantage of. However, we do realize that with the vast array of lodging choices, it can be hard to pick a home base.
That's why today we're providing you with a shortlist of fan favorites that you can use as your Littleton (and beyond!) launching pad.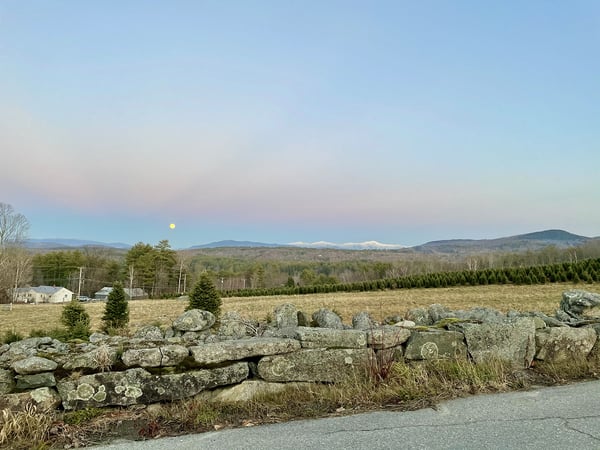 For the history enthusiast…
Thayer's Inn
January 14, 1850 marked the opening of the "Thayer's White Mountain Hotel," which is now known as simply, "Thayer's Inn."
The Inn is right on Main Street in downtown Littleton and has been the choice of many famous individuals like Ulysses S. Grant, Franklin Pierce, Richard Nixon, Jimmy Carter, George H.W. Bush, Patrick Buchanan, Bill Bradley, Sherman Adams, P.T. Barnum, Horace Greely, Henry Ford, and Bette Davis, to name a few.
Staying there is sure to take you back in time while letting you explore all that Littleton has to offer, easily, on foot.
Address: 111 Main Street Littleton, New Hampshire
Website: Thayersinn.com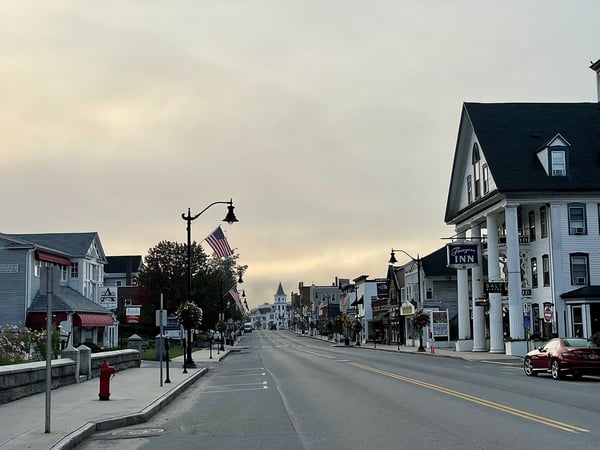 Sunset Hill House
The name, Sunset Hill House belonged to one of New Hampshire's Grand Hotels starting in 1880. This Sunset Hill House was built as an annex at that time. The original hotel was built for 350 guests, while this one has 28 rooms and is much more intimate.
The Sunset Hill House has 70 acres to explore, fire pits, a pool with a view of the White Mountain Range, a historic 9-hole golf course, delicious drinks, and fine dining. Dinner is available Wednesday-Saturday from 5-8 p.m. Their chef is Michael Peacock, a culinary expert who has traveled to 27 countries and brings influence from all around the world to Sunset Hill House's cuisine.
It's everything you need to relax and refresh in luxury legacy.
Address: 231 Sunset Hill Rd, Sugar Hill, New Hampshire
Website: Thesunsethillhouse.com
For people with rewards points…
If you're a frequent traveler, you might consider any of the nearby chain hotels Littleton has to offer. The Hampton Inn Littleton and the Best Western White Mountain Inn are both excellent options!
For the outdoors person…
Littleton / Franconia Notch KOA Holiday
RVs, tents, and cabins are all fair options at the Littleton / Franconia Notch KOA Holiday. It's a perfect spot to start any adventure from, but there are also on-campground amenities including a pool, a small playground, a river view, and several events for community members like ice cream socials.
Address: 2154 Route 302, Lisbon, New Hampshire
Website: Koa.com/campgrounds/littleton
For those who want to stay Inn…
Sugar Hill Inn
This New Hampshire bed and breakfast is actually a farmhouse from 1789 that has since been fully restored and now has rooms that have private baths including several with whirlpool tubs, comfortable beds, fireplaces, views, and so much more. What's could be better? Breakfast and afternoon bites are included in the room rate!
For dinner, you can go to the Inn's restaurant Wednesday-Saturday and after that you can have a beverage in front of the fire, if the season is favorable.
With on-site massage and add-ons like florals and edible treats, this is a prime location for a romantic getaway in The Granite State.
Address: 116 NH-117 Sugar Hill Rd, Sugar Hill, New Hampshire
Website: Sugarhillinn.com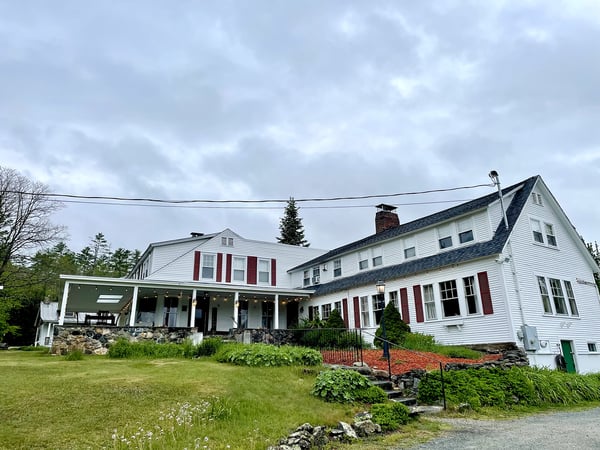 Franconia Inn
The Franconia Inn has been in business since 1865 and to this day it offers classic relaxation and charm. Located on 65 acres, this Inn has lovely views and a variety of rooms and suites to suit any taste.
There's also tasty options right at the Inn for both breakfast and dinner. They serve breakfast everyday from 7:30-9:30 a.m. and dinner Wednesday-Sunday from 5:30-8:30 p.m.
The location and natural beauty are sure to please.
Address: 1172 Easton Rd, Franconia, New Hampshire
Website: Franconiainn.com

The Wayside Inn
Voted Best Bed And Breakfast In The North Country in the Reader's Choice vote for The Caledonian & Littleton Weekly Record, this Inn features an on-Site lounge and restaurant with a patio with Ammonoosuc River views, stunning gardens, a private riverside beach, a wrap-around porch, firepits, a basketball hoop, horseshoe pits, Wi-Fi, access to both snowmobile and cross-country ski trails.
It's a great option for families, reunions, and other relaxing gatherings.
Address: 3738 Main Street, Route 302, Bethlehem, New Hampshire
Website: Thewaysideinn.com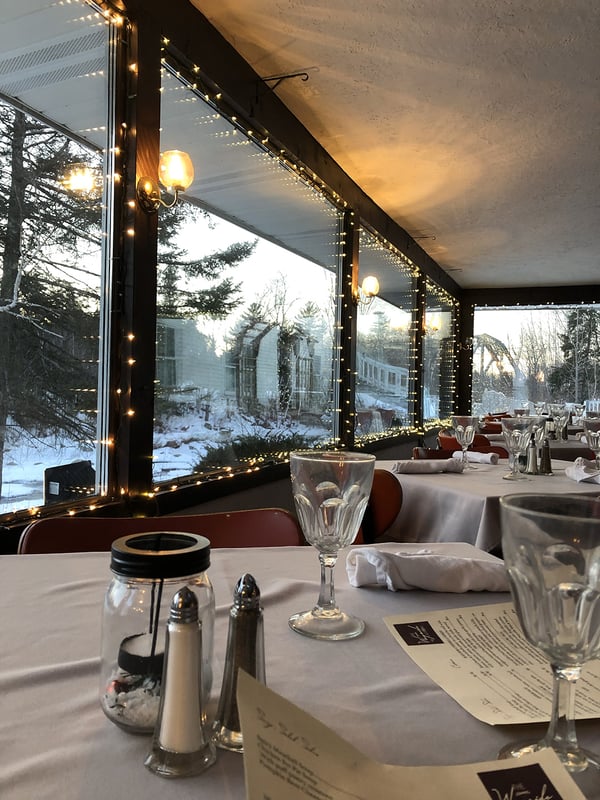 Adair Country Inn and Restaurant
The Adair Country Inn and Restaurant was named One of the Top Romantic Getaways in New Hampshire by U.S. News.
That stands to reason as it's pretty as a picture and offers an intimate fireside dining room as well as an outdoor garden patio, and a library pub! They also showcase art and is a prime choice for a wedding, elopement, or any special occasion.
Address: 80 Guider Lane, Bethlehem, New Hampshire
Website: Adairinn.com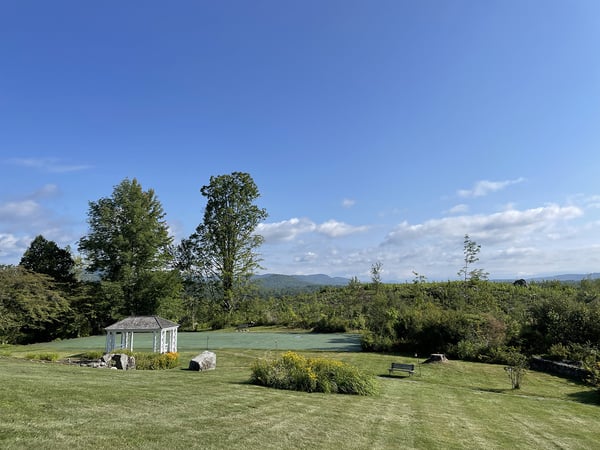 For a fan of the all-inclusive experience…
Mountain View Grand Resort & Spa
Having been designated as one of the Condé Nast Top 30 Resorts in the Northeast, this Resort has 141 rooms waiting to be discovered.
The first guests of this now renowned lodging option were just two people who needed lodging and were given space in a farmhouse owned by William and Mary Jane Dodge. From there, it grew substantially and has captivated visitors ever since.
If you visit, make sure to visit their Tower Spa or play a round on the Mountain View Golf Course.

Address: 101 Mountain View Road, Whitefield, New Hampshire
Website: Mountainviewgrand.com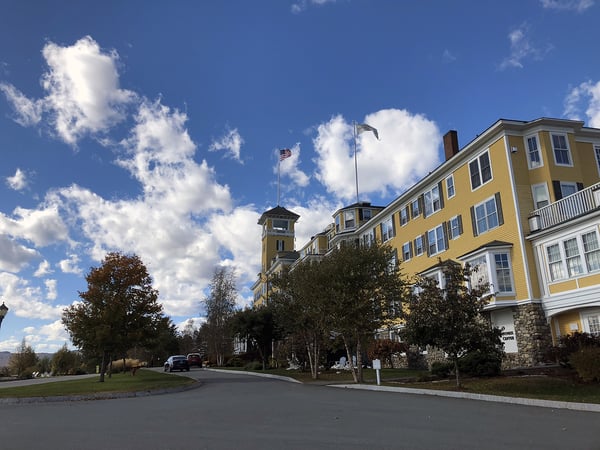 For those who love down-home motels…
Seven Dwarfs Motel

Smack in the middle of Bethlehem and Twin Mountain is a little gem called the Seven Dwarfs Motel & Lodge. The motel is anything but ordinary! They have a Jacuzzi suite, fireplaces and some units even have full kitchens. There's an on-site playground, a barbecue area, and while staying there you can also have a campfire near the mountain stream.
Rates are extremely affordable. They start at just $54! So, if you're looking for a budget-friendly spot with personality, this is the one.

Address: Scenic U.S. Route 3, Twin Mountain, New Hampshire
Website: 7dwarfsmotel.com
For the tavern traveler…
The Beal House
Right off Main Street in Littleton sits an American tavern where you can stay the night. This spot is more intimate with just six rooms, but is highly curated to leave guests feeling well-cared-for. You can review their suites and their rooms on their website to understand which room would be most aligned to your tastes. Comfortable and bucolic. That's The Beal House in just two words.

Address: 603-444-2661
Website: Thebealhouseinn.com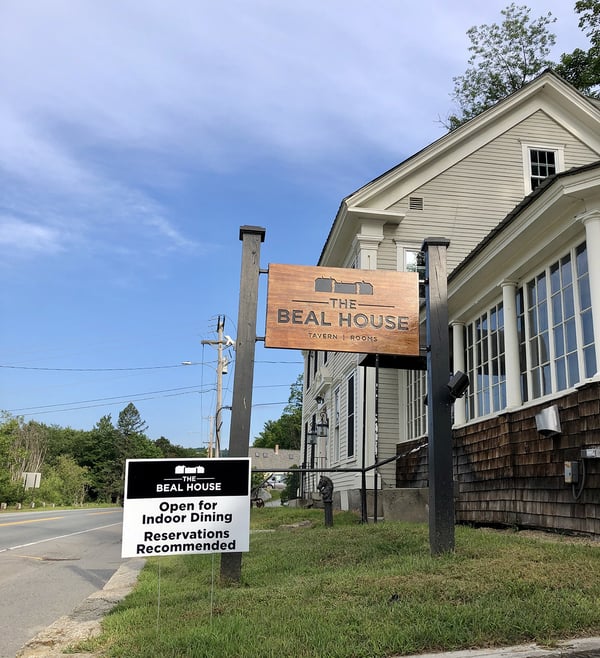 For people who like the borderlands…
Rabbit Hill Inn, Vermont
The #4 Top Resort In New England is right around the corner and just over the border!
Staying there means that you can enjoy 24 Carrot's fine dining, the Snooty Fox's British inspired pub, beautiful views of the Northern Vermont Mountains, time in their libraries, incredible gardens and walking trails, and in-room massage services. But those are just a few highlights, so we encourage you to experience it for yourself!

Address: 48 Lower Waterford Road, Lower Waterford, Vermont
Website: Rabbithillinn.com
-
Believe it or not, those are just a few of the options in our immediate area. Really, you can't make a bad decision. We hope you hit "book" and visit soon! We know you're going to have an unparalleled experience in our region.