On March 6, 2018, Northern Lights Music, a Littleton institution, celebrated its 40th anniversary. Forty years to the day, owner and founder, Dan Salomon, a recent Franconia College graduate, opened the doors to Northern Lights Music. Dan, who specializes in the Country blues guitar and bass guitar, first opened the shop as a small studio offering guitar lessons and accessories along with a handful of instruments.

Over the decades, Northern Lights Music has had four different locations in Littleton and even had shops in Lancaster and St. Johnsbury, Vermont. The original 1978 shop was located under the Village Bookstore (now Gold House Pizza). As a cash-strapped young college graduate, the shop featured secondhand displays, burlap walls, and an old crank cash register. When Dan outgrew the space, he moved to the now demolished Tuite building behind the Littleton Diner.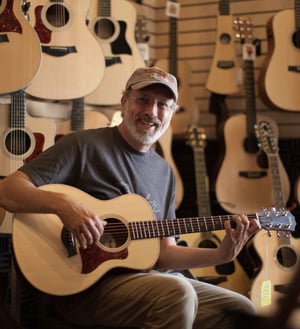 Dan's business started to take off after he made the move to the space where Dana Jewelry is located today on Main Street in downtown Littleton. Around the same time, "video clubs," VCRs, Walkmans, Atari, and stereos were all the rage. While still very much focused on musical instruments, Northern Lights decided to embrace the new technology.
Across the street, Frank Porfido, longtime owner of Porfido's Market, has seen a lot. Frank says, "It is hard to remember the Main Street of Littleton without Northern Lights Music. I took over Porfido's Market 40 years ago as Northern Lights was just starting up. They sold speakers, house and car stereos and most everything related to music. I even won a car stereo contest once! Dan and Moocho Salomon were masters at being able to continue to reinvent themselves as technology and competition made staying with the status-quo impossible."
In 1982, Dan took the plunge and purchased the oldest commercial wooden building on Main Street. Built in 1833, the building was the longtime home of Littleton Hardware Store. With lots of TLC, Dan renovated the retail space and turned the upper floors into six apartments. By the mid 1980's, consumer electronics were a key part of local retail which allowed Dan to grow his staff to 24 employees. The thriving local club scene attracted musicians across the North County into the shop to get sound equipment for their gigs.
When Walmart moved to town in the late 1990s, Dan had the forethought to eliminate electronics as he knew he couldn't compete with the Big Box stores. He decided to triple his inventory of musical instruments, which allowed Dan to return to his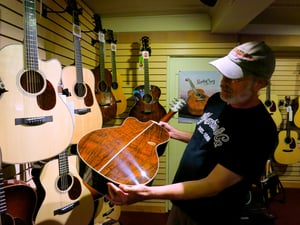 musical roots.
Now 40 years later, Dan, along with his wife Moocho and sons Asher and Benjamin, still provide the local community with all its musical needs at Northern Lights Music. As Moocho says, "We hope for another 40 years continuing to bring the best quality instruments and service to North Country musicians so they can follow their dreams." She's not kidding!
Northern Lights Music has been in the top 10 for the highest quality and variety of Taylor guitars in the country. This along with the "Music on Main St" initiative have made downtown Littleton a musician's dream.
Jim Alden, owner of Chutters, loves having Northern Lights right up the road. "How exciting to have such a well known musical shopping destination just down the block from us. One of the top ten Taylor guitar retailers in the country, right here on Main Street in Littleton! It has been amazing to see their expertise, dedication to service and hard work every day, but also fun to watch this grow with a new generation in Ben and Asher. Dan and Moocho have been an integral part of Main Street's success, and it has been great to work with them on so many downtown projects, even if Moocho refuses to share the secrets to the success of her amazing flower baskets on Main Street."
Northern Lights Music carries a large selection of high-end acoustic guitars, including hand built Bourgeois Guitars from Lewiston, Maine, Santa Cruz, Collings Guitars, National, and Deering. As a Fender and Yamaha dealer, you'll find all the instruments and accessories you could ever want. And, 40 years later, Northern Lights Music still offers music lessons! Below is a video featuring the Bourgeois OM Style 42 Old Growth Brazilian Rosewood Italian Spruce 7684, an extremely high quality, premium instrument.
Northern Lights Music is one of the many reasons that Littleton's award-winning Main Street is special. The store and its owners have adapted to new trends over the decades as continues to thrive in a small rural community when many shops have closed their doors. Make sure you stop by Northern Lights Music and help Dan and his family celebrate 40 years!
Want more local stories and updates about Littleton?