Like most handcrafts, leatherwork is a dying art. But thanks to young artists, Linny Kenney is bringing new life back to this art form in Littleton. Linny Kenney is a leather artist who specializes in high-end knife rolls and custom guitar straps. She recently moved back to the Littleton area after living the cowgirl life in California.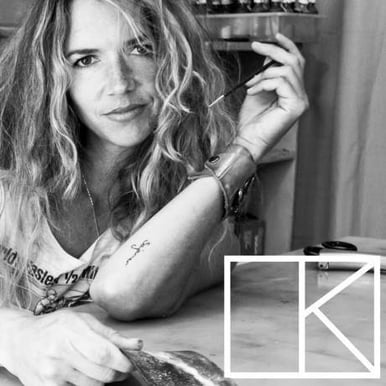 Born in Houston, Texas, Linny moved to New Hampshire with her family when she was 10 years old. To excite her about the move, her parents bribed her with a pony, and it was all she needed to hear to make the move. Sure enough, her pony, Sparky, was in her backyard as soon as they moved. Horses aren't the only things that Linny loves. With a talent and passion for music and art, Linny earned a talent grant to study opera music in New York City and Coesfeld, Germany and has performed all over the world. After spending some time in Charleston, South Carolina, and Nashville, Tennessee, she traded in the hustle and bustle of city life for the quiet countryside. Linny spent several years working as a wrangler in California giving horse rides along the ocean into the mountains and providing musical entertainment for guests.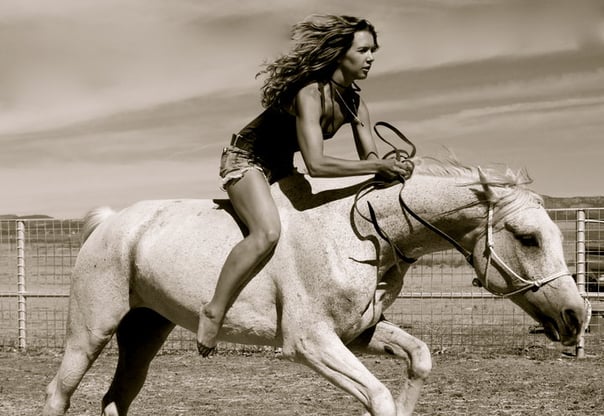 After being on the ranch for some time, Linny decided to ride her horse across the country back to her childhood home in New Hampshire. "I didn't know how I would keep a horse in the outskirts of San Francisco, but I knew wanted to ride across the country. I left the ranch in Mendocino and headed down to East Bay to stay with my mom and stepdad. I based myself here as I found and trained my horse, Sojourner. While I was living in their house, I found old leather tools in the basement. I needed a guitar strap for my travel guitar that I would bring with me on my horse, so Stephen, my stepdad, taught me the art of leatherwork as he had a leather business in the 1970s," said Linny. After she made the guitar strap, Linny started making other things, like saddlebags and Sojourner's bridle and shin guards.
Linny just happened to fall into leatherwork serendipitously, but as she likes to say, "having a solid understanding of leatherwork has helped me evolve into a designer and unleash a whole new creative outlet." Linny started with creating guitar straps and has now moved into designing finely crafted knife rolls for chefs worldwide. "A lot of my design credit goes to my customers. Ten years ago, a chef contacted me about making a knife roll. I made the first one and said I would never make another one because it was an incredible amount of work," said Linny.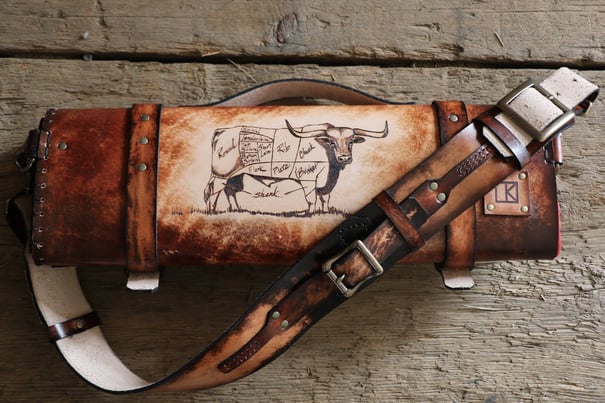 Not long after her first knife roll, the foodie scene exploded across the United States and the world. Her unique knife rolls became highly sought after by chefs. Linny has since fine-tuned the design and now enjoys creating them for her clients. "The knife rolls have provided incredible travel opportunities and mind-blowing food experiences. It's funny how a thing I thought I would never make again became a thing that truly enriched my life – bringing new friends, places, and amazing food!" said Linny.
"I've made guitar straps for musicians like The Tallest Man on Earth, Gillian Welch, Pepe Aguilar, and Shawn Mendes. Right now, I'm working on a few for the Doobie Brothers. I don't typically design the straps. People contact me with their design ideas, and I help make it a reality. Once the design is solid, I begin sketching, painting, tooling, and burning in the art," said Linny. Recently, Linny has begun to expand from custom art to more of her own designs, which she enjoys tremendously. Linny says, "I now find my inspiration all over - from nature, old architecture, animals and old photographs. I find myself constantly thinking about bag designs."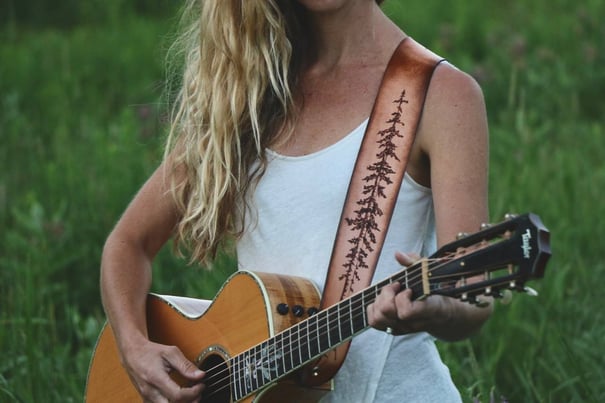 Riding a horse across the country is what sparked Linny's adventure into leatherwork. As a child, she once asked her dad if anyone had ever ridden a horse across the country. He wasn't sure but told her that she could if she really wanted to herself. "We used to go camping in Colorado every summer when we lived in Texas. On the drive across the plains, I would watch my imaginary horse running outside the car window. I'd jump him over trees and streams and imagine being out on him in the open land," said Linny.
Linny's childhood dream stayed with her while she grew up and explored a career in music. It was while she was working on the ranch in California that she decided she was going to do it. She was going to ride across the United States from California to New Hampshire. "There was no real reason other than that I wanted to spend time with a horse and the land. I wanted to just live with the horse – sleep and eat with him. There was a time in New Mexico when I felt something crazy with Sojourner. Like this feeling of oneness," said Linny, "that moment out in that massive span of land with no cars, no roads, no cell, and no anything – just a huge sky and my horse. It was just an inexplicable feeling that came over me. It was a pretty cool moment."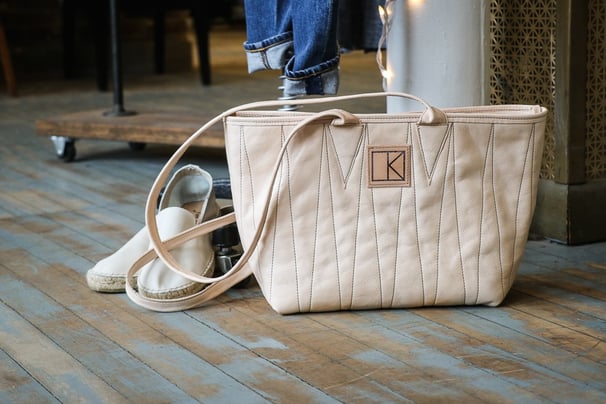 There were many ups and downs along Linny's 8.5-month journey across the country. She said one of her scariest moments was experiencing a nearby tornado with no place to go. "The tornado alarm went off in the town behind us, but we were already a couple of miles out. A car full of people stopped and told me I needed to abandon Sojourner and come with them to the storm shelter. I couldn't just leave him. So, we galloped as fast as we could down the road away from the storm into the dark sky. The storm approached us fast and was intense – lightning, thunder, and rain. I brought Sojourner into a ditch and dismounted. He put his head low and I just burrowed into his neck and hoped for the best. The tornado missed us by a couple of miles."
She is one of the many young artists, chefs, bakers, and entrepreneurs moving their businesses to Littleton, NH. You can find Linny's work locally at Bella Funk. If you find yourself in the Big Apple, you can purchase knife rolls at Eating Tools. If you're interested in custom leatherwork or would like to learn more about Linny and her remarkable life, you can visit her website at Linnykenney.com.