For a small mountain town of 5,882 residents in the White Mountains of New Hampshire, Littleton has an art scene that would rival larger cities like Portsmouth, Manchester, and even Portland, Maine and Burlington, Vermont. While it's easy to walk down Main Street and check out the incredible art of some very talented local artists, you may not realize that Littleton is a budding music town.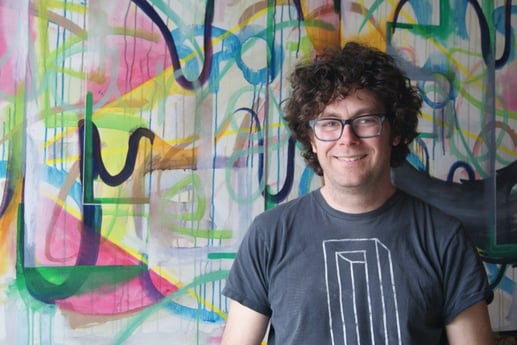 Jason Tors and his wife moved to Littleton shortly after 9/11 from New York City to work at Garnet Hill in Franconia. Originally from the Westchester, NY area, Jason had been coming to the White Mountains since he was a kid with his friends whose parents belonged to one of the ski clubs in Bartlett. With an art degree from Skidmore College, Jason thought he'd move to a larger city like Burlington or Portland, but Littleton captured his heart.
The small town of Littleton offered Jason and his family the opportunity to be closer to hiking, skiing, and just a better quality of life. As Jason likes to say,
"Littleton is a unique area as it relates to art and culture. It's like a little bubble. It's way more artsy and cultural than it should be based on its isolation."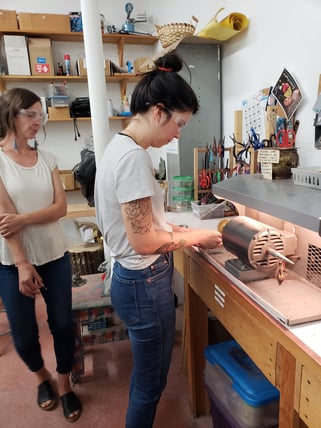 As a New Hampshire State Council on the Arts member, Jason is very involved with the arts in Littleton and the state.
"A lot of the art scene in Littleton is centered around the Little Studio School. It's moving from Mill Street into 23 Ammonoosuc Street, which is an incredible privately-owned building focused solely on the arts, technology, and wellness. White Mountain Science, an awesome STEM program for school-aged kids and a yoga studio will also be moving into the space."
The Littleton Studio School has been providing year-round art and craft classes to students of all ages and abilities since 2006. The school currently offers courses in painting, mixed media, ceramics, and jewelry, but plans to expand into more painting and drawing classes among other classes.
"The opening of 23 Ammonoosuc will really shift the gravity of the arts to the street as it's not very populated at the moment with businesses and foot traffic," says Jason.
Jason has always referred to himself as an artist, but it wasn't until recently he added musician to his name. "I've always dabbled in music over the years, but I now can confidently say that I am a musician," says Jason who plays both the drums and guitar. As someone who loves to create synergy amongst artisans and musicians, it was only natural for Jason to start the Loading Dock in 2014. For the first year and a half of the Loading Dock's life, it was a word-of-mouth or invite-only crowd. Located in an old brick mill building with a hard-to-find entrance, the Loading Dock was a music speakeasy that quickly became popular with the locals.
Eventually, through a Kickstarter fundraiser, Jason was able to make the required changes to the space to pass the fire inspection and become an "official place of assembly." Jason aims to have at least one show a week with one or two bands a night (pictured left is band Io & Titan).
"I get contacted regularly from independent artists who are putting together their own tours from as far away as Philly and Chicago. We're the perfect location. We're about two to three hours from Burlington, Montreal, Boston, and Portland. Plus, many musicians are looking for a non-urban place to play," says Jason.
"The bands we book are not always for everyone. They can be noisy. We book everything from local punk bands to country bluegrass to electronic. We make an effort to book artists who produce their own original songs. Almost every show is different." If you take a look at the upcoming events page of the Loading Dock's Facebook page, you'll find a wide variety of bands and artists performing.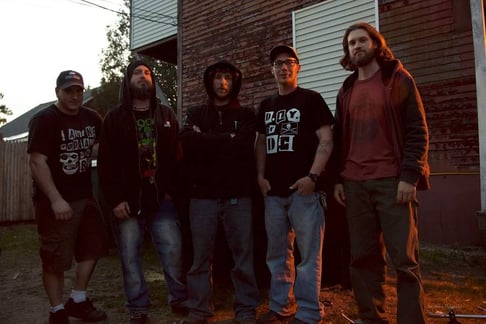 On Friday, October 26th, Mad Cat Habitat, a high energy, funky music band returned to play in the Loading Dock's annual Costume Party. On November 4th you'll find local legend, Ben Salomon, performing after Andrew Weathers, a composer, and guitarist from West Texas, and Hudson Valley sound artist Seth Christman.
"I like to pair a touring band with a local band, especially if they have complimentary or contrasting styles. I love to set up situations for cross-pollinating. What happens when you combine art and music? Or even different styles of music? You often get unexpected results," says Jason.
Check out the Loading Dock's events page for upcoming performances.
You never know whom you might see before they become famous!