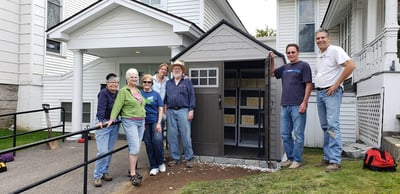 We've said it before and we'll say it again... we feel so lucky to be part of such an incredible community. As the COVID-19 pandemic has shown us over the past few years, everyone needs a little help here and there. Which is why it's so great there are several community run resources for anyone in need. With the rising costs of just about everything, but especially food and gas, budgets are getting stretched thin for many people across the White Mountains and New Hampshire.
If you or someone you know in the community could use a little help when it comes to food, there are many resources right in Littleton and nearby Bethlehem that can help keep the hunger at bay.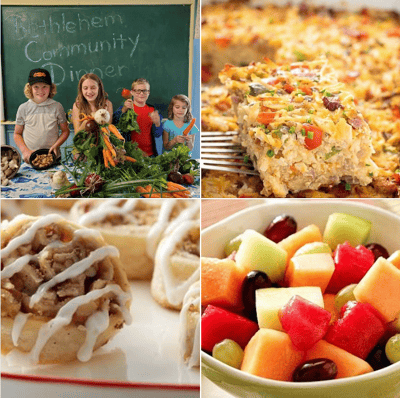 Bethlehem Community Dinner |
Durrell United Methodist Church

| 2057 Main Street | Bethlehem

Free community dinners are provided via buffet-style serving every Thursday night from 4:30-5:30pm at the Durrell United Methodist Church. They hope to return to sit-down community dinners once safe to do so. For now you can take your meal home to enjoy. All are welcome. Follow along on Facebook for updates at https://www.facebook.com/bethlehemcommunitydinners/.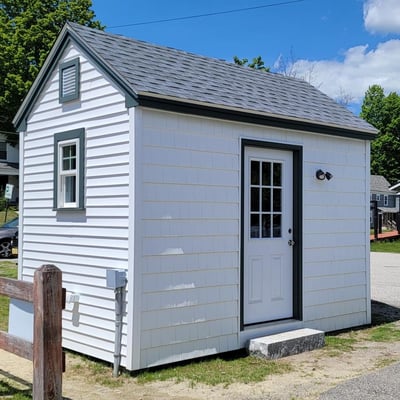 Little Free Pantry | 189 Main Street, Littleton | 2155 Main Street, Bethlehem
Main Street, BethlehemThe Little Free Pantry on Main Street in Littleton is a free, volunteer-run free food pantry where individuals and families in need can go and select from a variety of items. All items in the pantry are donated by the community and will vary based on donations. The recently opened Little Free Pantry in Bethlehem is located on Main Street as well. For more information on the Little Free Pantry in Littleton or Bethlehem, please visit their respective Facebook pages.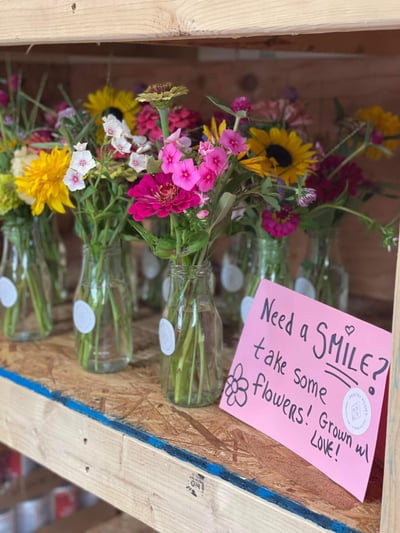 Pantry Posies |
Easton
Pantry Posies provides flowers to anyone who could use a little something sweet to brighten their day. They believe that everyone deserves to experience the positive benefits of accessible flowers. That's why they work to provide everyone the opportunity to feel included and cared for. 'We assist in food and flower access. Community is the heart of it all. We are endlessly embracing support from our local North Country floral, farming, and pantry communities.' Follow Pantry Posies on Instagram @pantryposies and stay tuned for upcoming opportunities to purchase flower bundles in support of these efforts.
Helping Hands Food Pantry – New Life Assembly of God | 475 Whitefield Rd | Bethlehem
Helping Hands Food Pantry within the New Life Assembly of God in Bethlehem has a food pantry open to the public on the 1st Thursday of the month from 9:00 am to 12:00 pm.
Littleton Food Pantry | 70 Redington Street | Littleton
The Littleton Food Pantry located at The Bridge Outreach Center on Redington Street serves Littleton, Bethlehem, and many of the surrounding communities three days a week. Opened Mondays from 4:30 to 6:30 pm and Tuesdays and Wednesdays from 10:00 am to 12:00 pm, the pantry provides community residents with food, personal hygiene products, household items, and clothing supplies. Most of the food is from the USDA and the New Hampshire Food Bank along with various local supermarkets. In order to pick up items, residents need to show a photo ID and proof of financial/economic need as required by the USDA. For more information on the Littleton Food Pantry, please visit https://www.bridgeoutreachnh.org/littletonfoodpantry.
All Saints' Episcopal Church | 35 School Street | Littleton
The All Saints' Episcopal Church on School Street in Littleton has two feeding ministries. The Dinner Bell Community Meal is open to the community every Tuesday at 5:00 pm from September to June. The meal is free and no reservations or tickets are needed. On Tuesdays and Thursdays from 9:00 am to 10:00 am and Sundays from 9:00 to 9:45 am, the Community Food Cupboard is open to the community. The Food Cupboard provides food and other personal supplies to individuals and families who need a little extra help. For more information on the Feeding Ministries, please visit: https://www.allsts.org/feeding-ministries.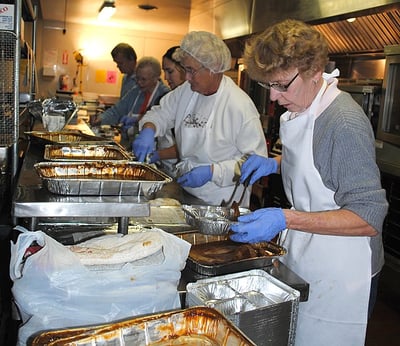 Grafton County Senior Citizens Council, Inc. | 77 Riverglen Lane | Littleton
The Grafton County Senior Citizens Council operates the Meals on Wheels program for the seniors living in Grafton County. Eligible homebound seniors receive a warm meal delivered right to their door by local volunteers. More information on the Grafton County Senior Citizens Council and the programs they offer can be found on their website: https://www.gcscc.org/.
Tri-County Community Action | 30 Exchange Street | Berlin
Tri-County Community Action is the community action agency that serves Coos, Carroll, and Grafton Counties with a variety of services from emergency rental assistance, utility assistance, Head Start, food assistance, and more. For more information on services and programs offered by Tri-County Community Action, please visit their website: http://www.tccap.org/.