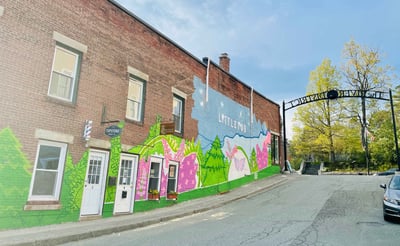 Traveling with kids? The small mountain town of Littleton is a perfect base for family adventures in the White Mountains. Children of all ages will enjoy playing on the swings at Remich Park, snowboarding down Mt. Eustis Ski Hill and catching a show at the Colonial Theatre. No matter how old the kiddos are, there is something to enjoy in Littleton both indoors and out.
Remich Park
A favorite of kids and families in Littleton, Remich Park on Oak Hill Avenue, has a playground, picnic area and gazebo, and a sports field for baseball and soccer. During the summer, there is an outdoor pool to cool off in the summer heat and during the cold winter months, an ice skating rink!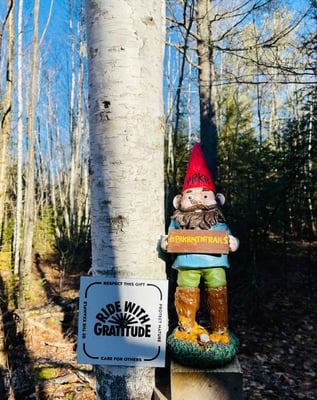 PRKR MTN Trails
Just above Remich Park lies the entrance to PRKR MTN Trails, Littleton's premier mountain biking trails. Fun for all ages, the 22 miles network of community-built trails are open all year for mountain biking, fat biking, cross country skiing, hiking, and more. There's even a small terrain park that kids will love practicing their skills on. If you don't have a bike, head over to Littleton Bike & Fitness where you can rent or buy bicycles for the whole family.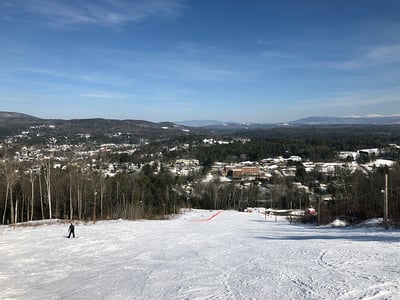 Mt. Eustis Ski Hill
The White Mountains are home to some of the best ski mountains in the northeast, but if you're short on time or budget, spend the day skiing on Littleton's locally owned and operated ski hill, Mt. Eustis Ski Hill! Mt. Eustis was first opened in 1939 and closed during the 1980s before a group of community volunteers reopened the ski hill in 2016. A day on the ski hill is only $5!

Littleton Public Library and Pollyanna
There is something magical about small-town libraries. The Littleton Public Library has a plethora of children's books and events throughout the year. There's even weekly Storytime at the Park year-round at Remich Park and for those who are staying at home, the library offers Storytime-To-Go kits full of books, activities, and crafts for toddlers and preschoolers.
Don't forget to visit Littleton's most famous resident – Pollyanna – on your way into the library. Eleanor H. Porter was an early resident of Littleton so it only makes sense that there is a bronze statue of the world's most optimistic storybook character. On June 12th, the whole town celebrates Pollyanna on Glad Day. It's an event you don't want to miss!
Jax Jr. Cinemas
Currently closed for the season.
It's rare to find a movie theater in a small town of just under 6,000 people. For over 100 years, Jax Jr. Cinema has been hosting theater shows and movies for the people of the western white mountains. During non-COVID times, the cinema shows Hollywood blockbusters and local favorites on their two screens, including lots of kid-friendly movies.
The Colonial Theatre
The Colonial Theatre in nearby Bethlehem is one of the oldest continuously operated movie theaters in the country first opening in 1915. Throughout the year, the small theater hosts live music events, theater performances, and independent feature films, film festivals, and more. There are lots of programming available for the little ones as well. Keep an eye out on the events calendar for the 2022 lineup.
Littleton Studio School
For the little Picassos and Rembrandts in the making, the Littleton Studio School offers year-round art and craft classes to students of all ages and abilities. Offering a variety of clay, jewelry, and mixed media classes, the art school also offers special kids and family classes as well.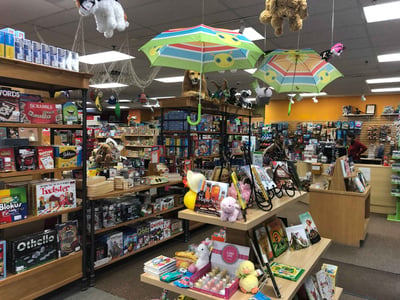 Little Village Toy & Bookshop
Who doesn't love a trip to the toy store! The Little Village Toy & Bookshop on Main Street is an Indie Book Shop and toy store offering books and toys designed for brain development and fun. With over 20,000 items in stock, you'll have a ton of educational and high-quality toys for kids of all ages. And many of the toys are made in the USA using green products so you can also feel good about your purchases.
Beyond Littleton
The White Mountains of New Hampshire are truly nature's playground. The whole family can enjoy hiking, biking, waterfall chasing, camping. nature spotting, and more. Scattered throughout the mountains are a handful of popular kid-friendly attractions and amusement parks. Not far from Littleton, you'll find Clark's Trading Post, a historic park with attractions like the White Mt. Central Railroad and Bear Show. During the summer months, cool off in various pools and water slides at Whale's Tale Waterpark in Lincoln. Celebrating 100 years in 2022, Polar Caves in Rumney is a place where you can explore caves formed during the last Ice Age along with other fun family-friendly activities.
No visit to the White Mountains is complete without taking a ride on at least one of the region's scenic railways. There's the Hobo Railroad in Lincoln, Conway Scenic Railroad in North Conway, and the Mount Washington Cog Railway on Mount Washington. While you are visiting the eastern side of the White Mountains, pay a visit to Santa at Santa's Village or Mother Goose at Story Land.
And while you're in Littleton, don't forget to bring the kids into Chutters for a sweet treat.