As an Ironman triathlete, I have spent countless hours of my life riding a bicycle along long stretches of pavement. I consider myself a pretty experienced cyclist, but when it comes to mountain biking, it scares me. For the longest time, I thought mountain biking was downhill racing. Screaming downhill over rocks and jumps at top speed didn't appeal to me one bit. I prefer to keep my skin on my body and my bones unbroken. And, then finally someone showed me what mountain biking really was and it was totally fun.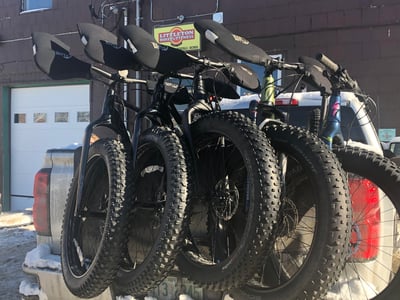 During my recent visit to Littleton, I had the opportunity to try fat biking at PRKR Mountain with Littleton Bike & Fitness. Littleton Bike & Fitness has been a staple of downtown Littleton since 1981. Selling a full range of bikes from kids to top-of-the-line mountain and road bikes, Littleton Bike & Fitness also offers rental bikes, including fat bikes. The shop has a selection of Specialized Fatboys and Hellgas with 4.6" studded tires, hydraulic disc brakes, and most have 1x11 drivetrains. Rentals are available for half-day or full day rental periods.
Throughout the winter months, Dave at Littleton Bike & Fitness offers fat biking clinics on select Saturdays. I was lucky enough to snag a spot in one of his recent clinics. It was a picture-perfect winter day. Blue skies for days. The trees were covered in fluffy white snow from a powder day a few days prior. The only downfall of the day was the temperature. The mercury barely moved past the negative numbers. But, thankfully, if you dress in enough layers and pedal fast, you'll stay nice and toasty.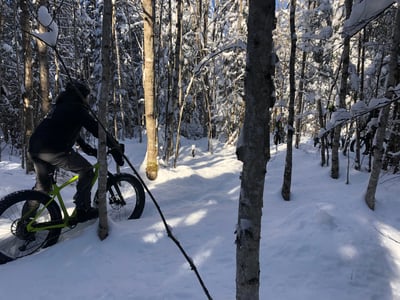 We started the day at the bike shop where Dave fit everyone on rental bikes and gave us a quick overview of the bikes. On a cold day, make sure you pack toe warmers! Once everyone was ready, we packed the bikes in the back of Dave's truck and headed over to PRKR Mountain. PRKR Mountain is a community built and managed network of 22 miles of trails at the end of School Street in Littleton. During the winter months, about 10 miles are groomed for fat biking.
After a quick lesson on how to ride a fat bike from Dave, we were off hitting the trails. One of the key tips I learned from Dave was to stay seated at all times on the bike for traction. During any hill climbs, it's best to slide your butt forward a bit on the saddle so that your weight is evenly centered on the bike. This took a little time to get used to as a road cyclist, I love to get out of the saddle on a good climb.
We followed the Orange Trail, which is one of the easier trails at PRKR Mountain. I definitely took a few spills, but thankfully with lots of snow around, the landing was soft. As Dave likes to say, "Fat biking is easier than regular mountain biking because the snow fills in all the technical roots and rocks. We actually ride most of our trails quicker in the winter than the summer because of the snow."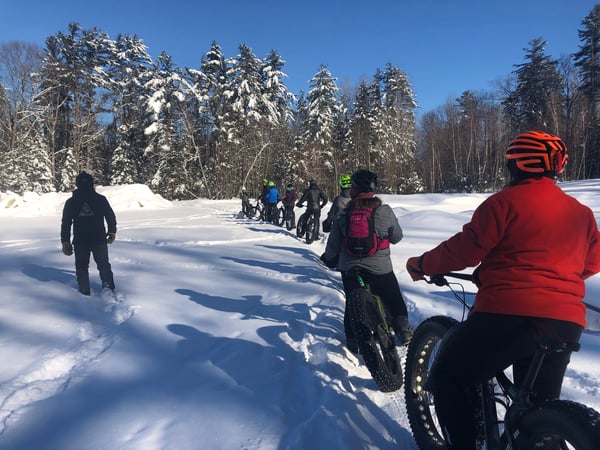 We spent several hours just playing on the trails and enjoying the thrill of riding a bike under snow-covered trees. PRKR Mountain isn't the only place you can ride a fat bike in during the winter months, nearby Kingdom Trails in East Burke, Vermont has groomed fat biking trails and Coos Cycling grooms trails on the other side of the White Mountains in Gorham.
For more information on fat bike rentals and upcoming clinics, head over to the Littleton Bike & Fitness website. Hopefully, I'll see you out on the trails this winter!