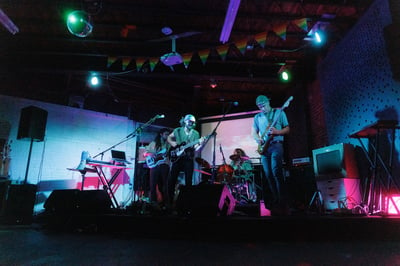 Photo credit: Daryl Averill
The town of Littleton, New Hampshire is known for many things. Community, walkability, and incredible mountain views are just a few! However, if you haven't visited before, you might not know just how incredible the art scene is. There are lots of places to have an artistic experience, but one that you should definitely know about is The Loading Dock.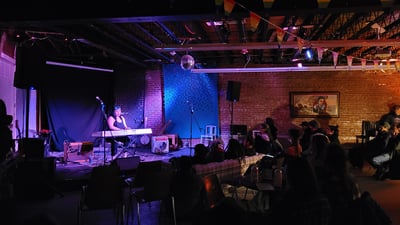 Photo credit: Daryl Averill
What is it?
The Loading Dock is a multidisciplinary community arts venue run completely by volunteers which offers flexible space to local performers and touring acts. Also, they focus on bands that produce original work, so if you attend a concert, it's likely that you'll hear something that isn't part of the mainstream music scene.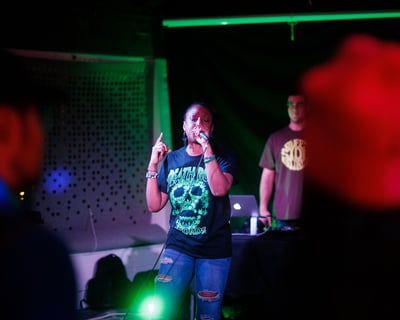 Photo credit: Daryl Averill
What can I expect?
The performances at The Loading Dock run the gamut, but some of the upcoming March and April events include a band from Portsmouth, New Hampshire that plays acoustic psych folk that's appropriate for all ages, a 21+ night of hardcore, thrash, punk rock, and rockabilly, a psychedelic, new wave Irish music event for St. Patrick's Day, and two bands, known for anthemic, raw sound and indie punk, respectively, making the journey from Portland, Maine.
And earlier this year they featured a Minneapolis punk band alongside another performer who played a stripped-down acoustic set, an all-ages indie rock, electronic dance music (EDM), and pop punk show, and an under 21 open mic night.
Do yourself a favor and check out all their upcoming shows. They're sure to rock your weeknight or weekend!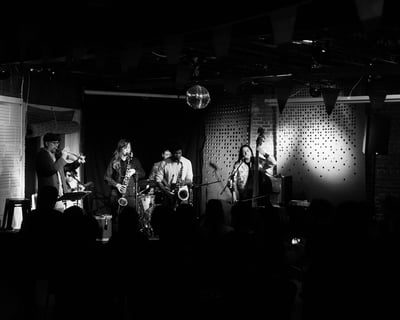 Photo credit: Daryl Averill
The reviews are in!
Locals and visitors alike just love The Loading Dock. Here are just a few of the raving reviews that we gathered from their Facebook and Google.
"The Loading Dock is an intimate and unique venue for music and entertainment. What a great asset to the community!" –Rusty T.
"A unique, creative space run by wonderful people, offering a wide variety of shows and events. Unlike anything else in the North Country. If you have the opportunity to see a show here...don't pass it up!!" –Kris P.
"The Loading Dock is my favorite place here. A true safe haven for me, and very welcoming. It is such a great environment where I can feel safe, happy, and at peace. The LD is also a killer music venue aside from all the other awesome events that take place here. Incredible touring bands have traveled to play here, making this a popular venue in the state. It's chill, it's great, and Jason rocks, what more can I say?" –Amelia L. T.
"Found this place after a Google search. What a gem. Great venue to see up-and-comers perform. I just moved back to NH from living in Portland, Oregon, The Loading Dock brought me back there for the evening. Looking forward to seeing more acts there." –Ray H., Jr.
"Unlike anything else in the area. Friendly people, casual, and artsy vibe, a great mix of musicians. If you get a chance to see a show here - don't miss it!" –Kris P.
"This art space and music venue is a gem to Littleton NH. They bring in bands from all over the US that you might not otherwise see. The atmosphere is amazing. Fantastic vibe. The staff is incredibly friendly. I highly recommend checking out the Loading Dock." –Penny K.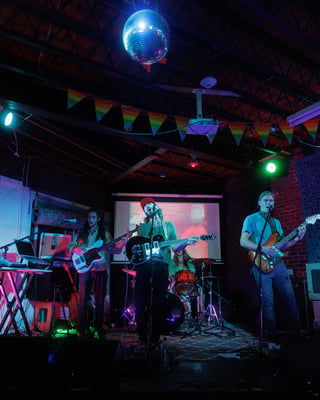 Photo credit: Daryl Averill
Want a taste?
Would you like to sample some of the sound? Take a moment to watch this video of Johnny Earthquake playing "Sleepwalk".
You can also read reviews of certain albums and acts like Oceanater, Ruckzuck, and Summer Synthesis 1978 complete with music samples on The Loading Dock's blog.
Finally, you can catch their radio show on North Country Community Radio 99.9 on Mondays from 10 a.m. to noon. Here's a recording from it by Daydream Nation to get you started.
Volunteer
If you're local to Littleton and want to get involved in a deeper way, they're always accepting volunteers to work the door and bar, run sound, float in the space, take photographs and videos, or simply recycle and clean.
Ready to rock your own event?
The Loading Dock allows you to rent their space for just $200! Run whatever type of community event you want your way with their space as the backdrop.
Bonus!
Again, if you're local (or if you plan on making several visits) you can become a member of The Loading dock for a mere $30! This membership gives you access to all their awesome events and shows!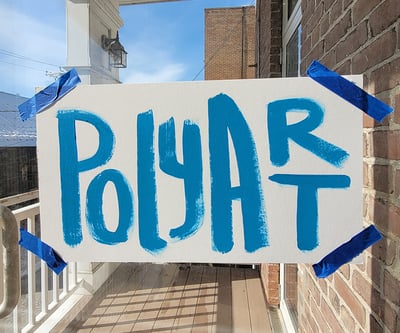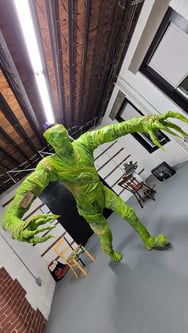 Next Door Neighbors
Last summer PolyArt opened next door to The Loading Dock. There are artist studios and gallery space for emerging visual artists. Several local artists have their studio there, including Jason Tors, founder of The Loading Dock. The art space that previously existed at The Loading Dock has been mostly moved into PolyArt. This transition has evolved The Loading Dock into primarily a performance space, while PolyArt allows for art activities in a space that can remain creative. PolyArt is also available for rental at the same rate as The Loading Dock.
Getting there
The Loading Dock is located at 35 Mill St. Suite D, Littleton New Hampshire, directly behind Topic of the Town on Mill Street. The entrance is next to an actual loading dock, hence the name. They can also be reached by phone at 603-259-6054 or by email at info@theloadingdocknh.com. We hope you get some time to visit! Top, original music awaits!