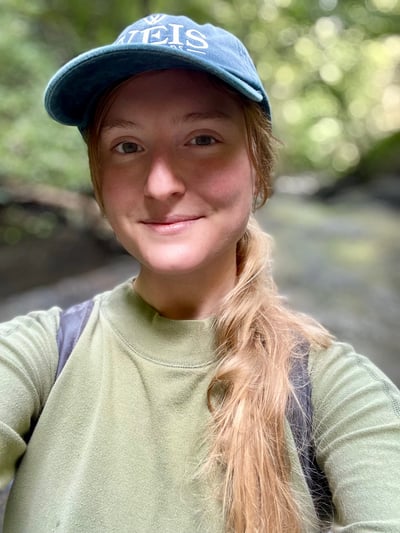 When Vanessa Robbins left her small New Hampshire hometown of Hollis to live and attend dental hygiene school in Boston, her family thought she would never venture back to rural life.
"I was like – get me OUT of New Hampshire," Robbins said. "I grew up in a small farm town and I just thought I needed more excitement than that. My dad had a tile flooring business and my mom worked the ultrasound in hospitals and made friends with everybody in town; I couldn't go anywhere without seeing someone my dad had done work for or my mom knew or grew up with."
"So when I moved to Boston, my mom never thought I was going to come back; that she had lost me forever to the city," she continued.
Robbins says she "absolutely fell in love" with Boston, living in the neighborhood of Allston for around eight years. However, she remembers "always trying to find community in the big city" – always excited about connecting with restaurants or businesses, new or old. Eventually, Robbins started a food blog, connecting with farms and restaurants and collaborating on the posts with a photographer friend.
"I lived in Boston forever and I loved it … but then I started driving in Boston," she said. "I started feeling like I was in the rat race."
As time went on, Robbins remembered that she could be a dental hygienist anywhere … and that she had fallen in love with the White Mountains, hiking 35 of the 48 4000-footers while still living in the city.
She put her resume out to practices in North Conway, in Lincoln and in Littleton – a small town that she had never even heard of, despite growing up skiing at Cannon Mountain every winter weekend.
"I never knew Littleton existed," Robbins recalled. "I just thought that after Cannon there was Canada."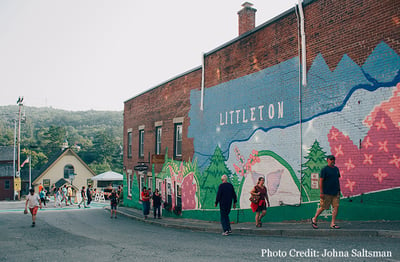 In January 2018, however, Robbins ventured north of the Notch to interview for a position with Ammonoosuc Community Health Services (ACHS). Before the job interview, she stopped by the Littleton Food Co-op for lunch.
"My boyfriend and I love eating local," she said. "Having been in dental hygiene school and learning about how important our microbiome is and the soil microbiome is and how it's all related … I went to the Co-op and was like 'I have to live here.' I have never seen such a great grocery store.'"
After a successful job interview, Robbins went to Schilling with a friend – and it was settled. A couple months later, she moved into an apartment just above Northern Lights Music and set about making friends in the community … and finding some furniture.
"I went to Lonesome Woods in Bethlehem because I needed a table and chairs," she said. "I walked in and met Nick [Storella, who took over his family's antique shop] and he was just so cool; we talked for like forty minutes and I told him all about Boston and how excited I was to live here."
Storella gave Robbins a sticker designed by Jason Tors – local artist, musician and graphic designer – that read "The North Country needs YOU!" … which she immediately took to heart.
Through a series of "happy accidents," a willingness to "dive right into things," and a welcoming community, Robbins now serves as the secretary of the Co-op's board of directors, sometimes teaches fitness classes with Studium Fitness or White Mountain Adventure Sports and, most recently, is a member of the newly re-vamped Littleton Cultural Arts Commission.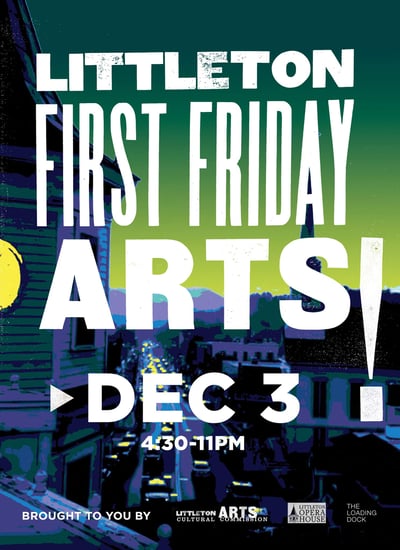 This summer, the Cultural Arts Commission debuted a series of events held on the first Friday of June, July and August where local business and public spaces in town hosted area artists, musicians, makers, teachers and cooks – some of whom were just starting to "dip their toes" into selling their wares or sharing their skills with the greater North Country community.
"When you live in a place like Boston, it's so established and you really need to have a decorated resume to get involved with something," Robbins said. "Whereas in Littleton, stuff is brewing up and it's not so established and set in stone … that's how I want First Friday events to feel for people."
Robbins and two other Cultural Arts Commission members led the First Friday Arts effort, which recently held a winter Holiday Market edition and scored a small grant from the State Council on the Arts to support next summer's First Fridays.
Tors – yes, the designer of Robbins' sticker and owner of Littleton's Loading Dock performance venue – was the team's in-house graphic design master. Adam Reczek – Littleton's new Opera House manager and Cultural Arts coordinator – was the Commission's connection with the town.
Robbins herself took on the social media and email coordination of the event, which was quite a task … especially as participation grew and the commission worked to keep over 20 locations and 60 businesses and performers organized.
"I think helping people feel connected to our Main Street through the arts is such a powerful way to include people," she said. "Some of the stories [from this summer's First Fridays] … I've heard from musicians who would only play at home. They'd say: 'well, I'm not ready to have my own show yet, but if I can just go busk and I'm not the only one out there...' It's not as much pressure; they can play two songs and be done. Everything is flexible and it's about meeting people where they're at in their creative path."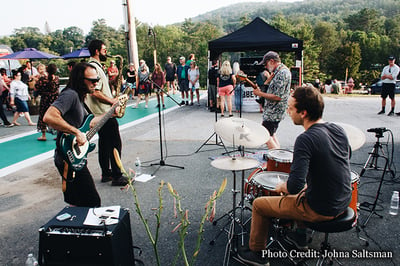 The Commission let it up to Littleton's main street businesses to organically invite their friends, other business owners they already knew or admired, to set up shop outside their storefronts on each First Friday.
"It was really a symbiotic relationship," Robbins said. "Let's say a clothing store has a clay jewelry maker. The store might already sell some jewelry, but this clay jewelry maker has their own set of friends and family and community that maybe would have never gone into that store before. Now they're getting exposed to it and are getting to meet different people in the community."
"And maybe they don't buy the clay jewelry or the clothing today … but the exposure to those new businesses or performers or items and that community widening is priceless," she said.
The Cultural Arts Commission has made it a point to structure the event to be as inclusive as possible – and will continue to do so moving forward.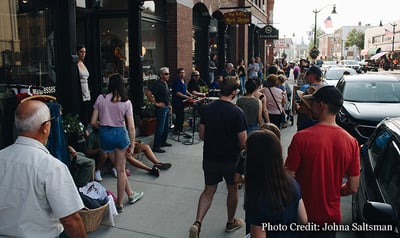 "It's not like Main Street needs changing – it's really great the way that it is," Robbins added. "But it does generally close at 6 p.m. and it was kind of nice to see things still bopping around 8 p.m. one Friday a month."
"Every person with their own set of skills has something to offer to the community, to this event … and it doesn't even have to be directly related to the arts," Robbins said. "That's what we're hoping to do by having a street team of volunteers next summer that want to give out fliers or direct visitors or help with clean-up."
Robbins, who now commutes from Littleton to work a day job in public health in Orleans, Vt., says that what she cares about most is bringing people together and helping them break barriers.
"I do it in public health," she said. "I do it when I'm teaching somebody fitness and they're a beginner. I do it at the Co-op when we break barriers for local farms and small businesses to sell products. ...I'm just always rooting for everybody."
When Robbins began her new life in Littleton in January of 2018, her mom "was like 'no way,'" having thought her daughter would be living in cities for the rest of her life.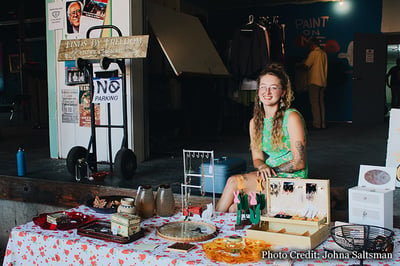 Now, Robbins sees that encouraging vibrant rural communities was a thread in her life's fabric all along.
"If I do have kids someday, I want them to feel like I felt when I was a kid," she said. "I want them to be able to walk on Main Street and feel a part of it, to feel safe and included in it – just like what we strive for folks to feel at First Friday."
More information and ways to get involved can be found at the Littleton Cultural Arts Commission's website at linktr.ee/littletonculturalarts, on Instagram at @littletonculturalarts or by emailing littletonculturalarts@gmail.com.