Celebrate school vacation week in one of America's Best Main Streets. Littleton, New Hampshire is perfectly located near some of the best outdoor activities in the White Mountains. From alpine skiing and snowboarding to snowshoeing and even indoor rock climbing, there is something to keep you best all week long. Come discover why Littleton is one of New Hampshire's best kept secrets!
Skiing
Littleton is home to Mt. Eustis Ski Hill, a volunteer-run small ski hill with a rope tow. You can ski for as little as $5! Unfortunately, skiing at Mt. Eustis is dependent on Mother Nature. If Mt. Eustis is closed, head to one or more of the nearby ski resorts, like Bretton Woods, Cannon Mountain, and Loon Mountain. Bretton Woods is New Hampshire's largest ski area with over 464 skiable acres, 63 trails, 35 glades. During the weekends and school holidays, night skiing is available on five trails and two lifts!
Just a short drive down I-93, Cannon Mountain is New Hampshire's highest skiable mountain and home to Olympic gold medalist Bode Miller! Don't miss the Family Fun Night with torchlight parade and firework shows during school vacation week. Loon Mountain, located about 30 minutes away in Lincoln, is a family-friendly ski resort offering 370 skiable acres, 69 trails, and glades, and some of the best terrain parks in the East. Loon Mountain is also home to an outdoor adventure center offering cross-country skiing, snowshoeing, tubing, and ziplining.
Cross Country Skiing
Franconia Inn owns and operates the Franconia Village X-C and Outdoor Recreation Center with over 65 kms of single-track trails through the woods, fields, and over the frozen brooks. Rentals for the whole family are available. Bretton Woods is one of the largest cross country ski areas on the East Coast with over 100 kms of trails on the grounds of the historic Mount Washington Resort and the White Mountain National Forest. Trails are groomed for both classic and skate skiing with several warming huts along the way. High elevation groomed cross country trails are available at the Mount Stickney Cabin by way of the Bethlehem Express detachable quad lift.
Snowshoeing
The White Mountains are home to some of the most stunning snowshoe and hiking trails in all of New England. No matter what your experience is with snowshoeing, there is a local trail for you to break a sweat. PRKR Mountain Trails is a great place to snowshoe and cross-country ski as the terrain is relatively flat and most trails are groomed. Weeks State Park in Lancaster offers an easy trail perfect for beginners with a low summit, but surprisingly beautiful views of the Presidential Range towards the south. Franconia Inn in nearby Franconia maintains over 65 kms of cross-country and snowshoe trails. Day passes and rentals are available for the whole family.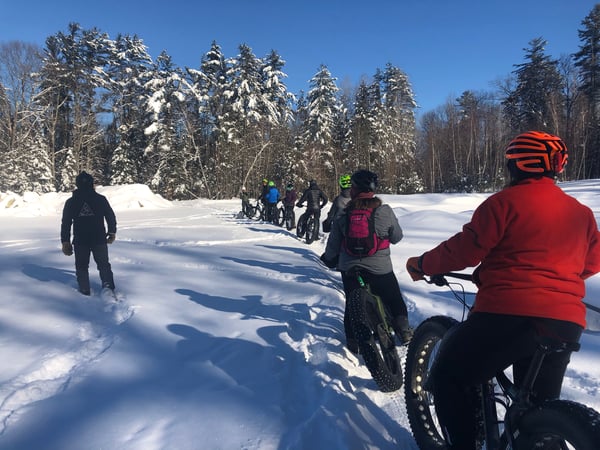 Fat Biking
Fat biking, or mountain biking with really fat tires, has exploded in popularity in the recent years. If you haven't tried it yet, you have to try it this winter! Littleton Bike and Fitness on Cottage Street offers year-round bike rentals, including fat bikes in a variety of sizes. Grab a rental and head over to PRKR Mountain trails for 22 miles of groomed trails for all levels! If you're an experienced fat biker, sign up for the 2020 Fatbike Poker Run!
Eating and Drinking
You won't go hungry in Littleton! Start your day with breakfast treats from Crumb Bar. Choose from savory breakfast sandwiches made with fluffy duckfat biscuits or sweet croissants and cinnamon rolls. After spending the morning shopping on Main Street, grab lunch at the Littleton Freehouse. The menu has classic favorites like soup and sandwiches and larger entrees like maple mustard pork chops and gnocchi. After a long day of skiing with the family, the adults may have earned a beer or two. Schilling Beer Company not only brews delicious award-winning beer but has an extensive food menu for the whole family, including an array of wood-fired pizzas. Drop the kids off at Jax Jr Cinema and treat yourself to a romantic dinner at The Beal House Inn. And, remember candy from Chutters always makes the perfect dessert!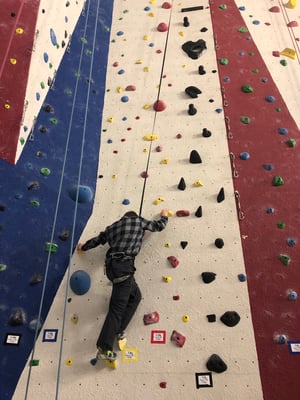 Indoor Rock Climbing
When the temperatures start to drop, head over to North Country Climbing Center (N3C) in Lisbon for a day of indoor rock climbing. N3C is the only full-service indoor rock climbing gym in the North Country. The climbing gym is home to 6,000 square feet of climbing with varied terrain for all ages and levels. Unlike other climbing gyms, N3C has auto belays meaning you don't need a belay partner! Of course, if you enjoy belaying, you can do that as well. Never rock climbed before? No worries! The staff at N3C can teach you everything you need to know to get started.
Winter Ziplining
Most people only think ziplining is for tropical locals, but did you know that the White Mountains is home to one of the first ziplines in New England? Alpine Adventures in Lincoln, New Hampshire has been operating the first and longest zipline company since 2006. During the winters, they offer two courses on their privately-owned Barren Mountain. You can fly high through the treetops while seeing incredible views of the winter months. Afterward, sip hot chocolate by the fireplace in the hand-built treehouse.
School vacation week is upon us, it's time to get the kids outdoors and enjoy the beauty of the White Mountains and Littleton!