New Hampshire is known for many things including maple syrup, award winning breweries, beautifully groomed ski mountains, gorgeous lupine fields, and breathtaking foliage in the fall. Throughout the year, the White Mountains and Great North Woods attract thousands of tourists from all over to enjoy the beauty this state has to offer. A local favorite in the fall is to wrap up in a warm sweater with a cup of hot apple cider and a box of fresh donuts to enjoy on a foliage road trip. Everyone is familiar with 93, the highway that links the mountains to cities like Concord, Manchester, and Boston. It's the straight shot that visitors love to get easy access to the region with minimal hassle. What is less known are the back road byways like routes 3, 16, 112, 302, and more. Here are the best mini road trips to get a view of the foliage - some with a lot less traffic!
The Littleton to Dixville Notch Loop Drive
Directions: Take US-3 North to Dixville Notch and then take NH-16 South back to Littleton for a perfect 145 mile loop around the Great North Woods region.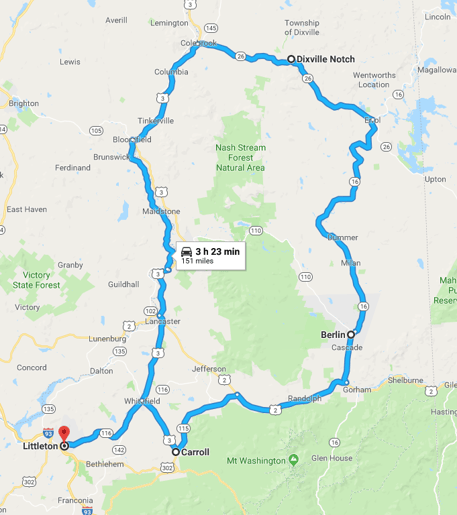 If you haven't had an excuse to explore further north than Littleton, here's your sign! Dixville Notch is an extraordinary wonderland 1.5 hours north of Littleton. Start your day right at The Coffee Pot in Littleton, NH, for a nice diner-style breakfast. This loop trail could take a few hours, or you can make a day of it and wander off the beaten path along the way!
On the way to Dixville Notch you'll pass through the town of Lancaster and by The Balsams, bringing you into the Great North Woods. Lancaster is a small town with a brewery and bakery that can't be missed! The Copper Pig Brewery is open on weekends and Polish Princess Bakery is open Wednesday - Sunday for lunch, a coffee or a pastry. In addition to small town gems like these, Dixville Notch is known for beautiful mountain views, extraordinary close-ups with local wildlife, and amazing snowmobiling trails that are longer than the distance from here to California.
The Presidential Range Tour
Directions: Rte. 116, Littleton to Whitefield, then Rte. 3 to Lancaster to Rte. 2-E to Gorham, then Rte. 16 S to Glen, Rte. 302 W to Littleton. Four state parks, numerous scenic vistas and historic villages. (Visit NH)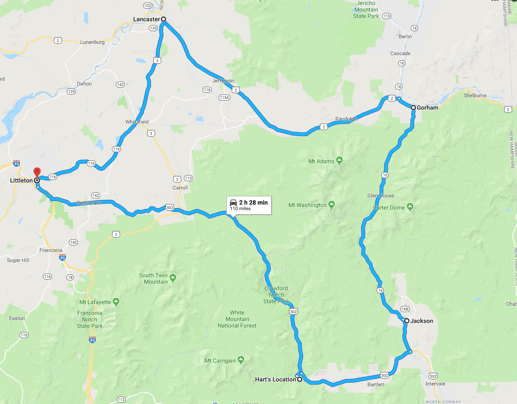 This 110 mile loop begins in Littleton and goes up to Lancaster and around the back side of the Presidential Range. Enjoy the small town Main Streets of Littleton, Lancaster, Jackson and Bethlehem along with beautiful spots to enjoy the foliage. Weeks State Park and Mount Prospect are just a couple of places to truly enjoy the changing colors. Around Jefferson, you will get a perfect view from every angle of The Presidential mountains.
The nearby Mount Washington Hotel is also an excellent place to stop (or stay). Enjoy extraordinary views of Mount Washington from the veranda and explore the areas various shops, food, and trails.
Kancamagus Scenic Byway / Kanc 302 Loop
Directions: Start in Lincoln and take 'The Kanc', also known as Route 112, east to Conway. For the Loop, take Route 302 North to Bretton Woods and continue onto Route 302 until you reach Littleton. From Littleton, take 93 south back to Exit 32 (Lincoln).
'The Kanc' is a 34 mile byway that connects Lincoln and Conway, which are two busy tourist towns in the White Mountains. The Kanc is definitely the busiest of these back roads, as it is one of the most popular fall foliage destinations in New England. That being said, we think the small amount of traffic will give you more time to take in the views on this locally cherished scenic drive. In the Fall, locals drive the whole 112 mile loop to make the most of these short lived sights. It is famous for having some of the most photogenic spots to enjoy the changing leaves. Watch this beautiful drone footage of The Kancamagus from last fall.
If you're looking for a longer road trip than the Kancamagus, you can do a full loop using Route 302 which goes North and connects back to 93 South to Lincoln. If you choose to do a full loop, stop at Bretton Woods and take the chairlift up the mountain to enjoy the view from above and a lunch at the top! Littleton is also right off of exit 42 on 93 and is on the way back to Lincoln. Check out the colonial and artsy downtown with delicious cuisine, local brews, entertainment, and local small businesses and retail. It is also home to the original Chutters Candy Counter, so don't forget to stop in!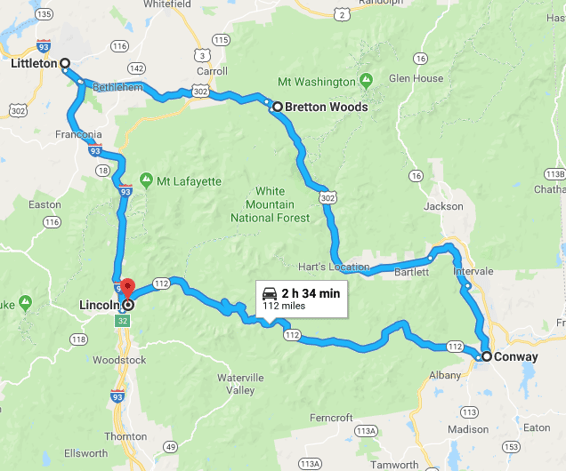 ---
There are dozens of ways to enjoy the foliage this fall. Create a checklist now of all the hikes, scenic drives, attractions, seasonal events and fairs that you'd like to do before the season is over! Littleton is a great location that sits right in between Lincoln, the Basecamp of the White Mountains, and The Great North Woods of Northern New Hampshire. Chutters Candy Counter has year-round locations in Littleton and Lincoln, as well as seasonal locations at Loon Mountain and Bretton Woods. The Littleton location is known around the globe as the Guinness Book of World Record's Longest Candy Counter! Would you like to read more blog posts like this? Subscribe to our monthly newsletter to get notifications about the goings on in and around town as well as our candy of the month blogs!