On a warm, gray Sunday morning in May, 67 runners and walkers lined up at the start line of the first annual GEAR event in Remich Park to run either a 5k or 5 mile race on the trails of Remich Park and neighboring PRKR MTN. Race participants came from near and far to participate in the much anticipated 1st GEAR event, which in the coming years will grow into northern New England's premier outdoor adventure gear festival.
Anne-Marie Levesque and her fast-paced sled dog of Quebec won the 5k race with a blazing time of 26:23 followed by Mike Morin and Renee Gemmer. Sixteen runners took on the 5 mile race with Jeremiah Hawkins taking home the gold followed by William Tracy and Greg Kwasnik. More than five dogs also completed the race earning top panting rights among their friends at the dog park. Top prizes included a drill set for the men and a patio set for the women from Lowe's of Littleton among other prizes from local businesses like Tender Corp's Adventure Medical Kits and Natrapel bug spray and fudge from Chutters.

GEAR Rally, as it will be known going forward, is a true community wide event that was developed in the first ever Destination Marketing class at Plymouth State University in 20XX taught by Mark LaClair and Allan Guilbeault of LGA Media Group/TotalScope Marketing. Students presented their master plan for the event, including everything from marketing to logistics to a group of business owners and organizations in Littleton last year. Many of those businesses and organizations played an integral role in getting the event off the ground this year.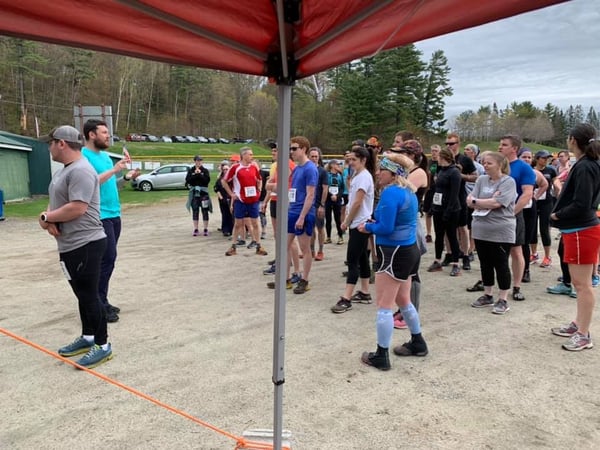 Designed to give back to community. 1st GEAR donated all the proceeds from the event to two area non-profits who were key players in bringing the event to life: Friends of Remich Park to help to purchase a new playground for the park and Littleton Main St. Inc., an organization focused on economic development of the Main Street community. "1st GEAR was a huge success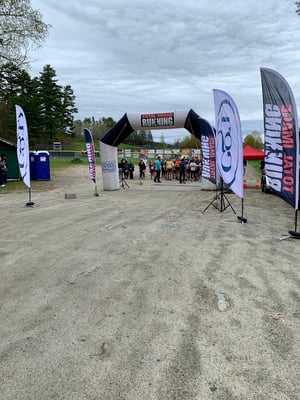 for the town of Littleton. It was very heartening to see so many different parts of the community coming together for the benefit of the town. All of us who were part of the event are excited to see it expand in 2020 and bring even more new faces into Littleton so we can show them what a great community we have," said Chris Wilkins of Littleton Parks and Rec.
After the awards ceremony and BBQ, many of the racers joined over 100 other outdoor enthusiasts at PRKR MTN for the "Tour de Borderlands" event. During the afternoon event, Bike Borderlands with the help of Littleton Bike & Fitness and other local businesses, offered free group mountain bike rides, demo rides, and kids rides with live music and food at their pump track.
This year's event is just the beginning. Short for Great Eastern Adventure Rally, next year's event will be designed as a staged race with running and biking legs and more. Additionally, there will be an outdoor gear swap where you can bring your gently used items to swap and sell to others. Of course, there will be live music and food as well. The next GEAR Rally event will take place in May 2020. Check the website in the coming months for more information on GEAR.